Book Review
The Insider Rail Guide - Inverness to Kyle of Lochalsh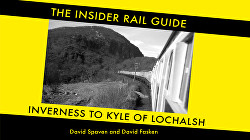 The Insider Rail Guide - Inverness to Kyle of Lochalsh
David Spaven and David Fasken. Kessock Books £7.99
ISBN 978-0-9930296-8-4
When I picked up this Insider Rail Guide my first reaction was 'Simply an ideal book to have on a train journey - any train journey, but especially the one to Kyle'. For a start, it's small with very similar dimensions to my trusty Kindle. The first flick through revealed a fascinating mix of black and white photos, sketches and maps. Straight away I wanted to stop and look at each one properly. Many of the photos and drawings are unconventional views, they concentrate on interesting angles and details which you could look out for as you travel.
The first half covers the history of the line from birth to the present, full of fascinating details and old photos as well as personal reminiscences, followed by chapters on "Preparing for your journey" and "Making the most of your journey", lots of practical advice and information.
The remainder of the book is entitled "The view from your window". This is the equivalent of sitting with the authors at your table on the train enthralled as they tell you stories about what you're seeing and pointing things out as you travel.
I have to confess at this point that I have never travelled the Kyle line but this book has given me the strong feeling that I must do so as soon as possible, taking the book with me!
Ian Budd