A New Meaning to Becoming a
Stationmaster!
Helmsdale Station CIC is seeking new directors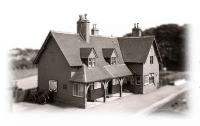 Helmsdale Station Community Interest Company has been trading for eight years providing self catering accommodation in Station House, Helmsdale. Currently the directors give their time on a voluntary basis; as a result, the CIC is able to give around £4,000 p.a. of trading surplus to local charities and community causes in Helmsdale and to promoting the Far North Line and low carbon travel initiatives in Caithness and Sutherland.
We now seek a person, or people, to assist the running of the business, with a view to succession in due course - including overseeing the bookings, accounts, Companies House returns, publicity and maintenance. This might be a single role, or several. An honorarium of up to £2,000 could be offered plus an entitlement of some weeks of free accommodation at the station each year; details to be discussed with the existing directors.
Details of the project and the accommodation are at http://helmsdalestation.co.uk
For further information and expressions of interest, contact Michael Willmot at
helmsdalestation@gmail.com