Trains Which Are Never Late
Momentous history was secretly made in the Highlands one Wednesday in January 2008 which can only now be revealed.
First ScotRail is to launch a groundbreaking book by its Director of ExtraNormal Relations, Dr H G Yellow-wells. This is set to take the world by storm and become an all time scientific best seller. The experiment on 30 January was designed to prove the hypothesis that First ScotRail trains, or indeed any trains, need never be late again.
The 15:23 train from Aberdeen to Kyle of Lochalsh was chosen for this thrilling breakthrough. Comprising a seemingly ordinary, but recently refurbished, class 158 unit it left Aberdeen 35 minutes late at 15:58. When it got to Nairn at 18:27 it was fully 50 minutes late. Nothing unusual in that, you might think.
The next part of the story we can only whisper with awe! When this train left its next stop, at Inverness, it was on time, and that time was - 18:15! Progress of the train continued to be monitored and it arrived at its destination, Kyle of Lochalsh, on time also at 20:47. This was a brilliant result for the PPM and for the engineers and technicians responsible for this remarkable train.
Dr Yellow-Wells weaves a mind blowing account of this achievement, keeping his readers enthralled for however long it takes them to read the story. Without revealing too much of the plot, we might mention that the Public Performance Measure or PPM has now been renamed the Past and Present Minutes index and the qualities of the new carpets in the refurbished unit take on a special significance as does a completely new concept for the Global Positioning System.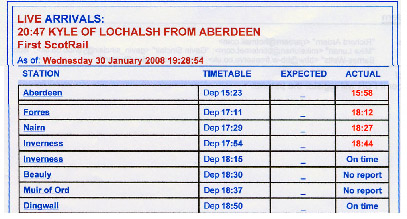 This startling achievement has already been awarded the prestigious TIC/TOC prize. Director of ATOC, Gilbert Heath, promised that all train operating companies would soon be similarly equipped to make late trains a thing of the past. The Chief Executive of Network Rail, John Setteer, also expressed timely interest in adapting the system to eliminate maintenance over-runs. The railways will never be the same again, he said.
This earth-shattering timebomb had to be kept hush hush until the world rights had been filed at the Patent Office but now First ScotRail are set to make a lot of money from their World First through their new company First Time Travel. Ticketless travel can also be introduced because fares will no longer be needed. How appropriate too that the book was able to be launched by the originator of the first Hush Hush himself, Sir H N Gresley. The ceremony took place at the old Clock Face station a few miles from Rainhill where railways first burst upon the scene way back in 1830.
We are certain to hear more of this incredible invention. Watch this space!