Book Review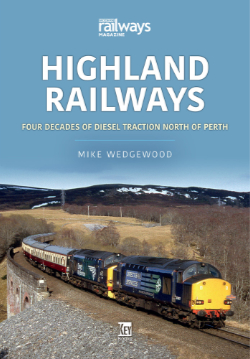 Highland Railways - Four Decades of Diesel Traction North of Perth Mike Wedgewood, Key Publishing 2021
Volume 19 of Britain's Railways series. Softback, 96 pp. £15.99 ISBN 978-1-913870-94-2
On the face of it this book by FoFNL member Mike Wedgewood is aimed at traction enthusiasts. There is such a variety of locomotives and trains in these pages that I'm sure they won't be disappointed. However, this is far more than a series of rolling stock photos.
The volume is divided into three parts by route: the Highland Main Line, Inverness to Kyle, which covers the southern part of the FNL, and The Far North Line from Dingwall northwards. Altogether there are more than 70 photos of the Far North Line. This is an excellent survey of the scenery and the seasons, as well as the trains and the stations, and is therefore recommended to all our readers.
Most of the 180+ photos have never been published before and were taken by Mike or his enthusiast colleague Eddie Parker. There is only a page or two of introductory text for each section, but every photo has an informative, and often amusing, caption. That makes this an ideal book for dipping into for a few minutes at a time. It also reminds the reader of what a wonderfully varied railway the Far North Line is - and how much we've all missed travelling by rail during the pandemic.
Ian Budd