Robert Garrow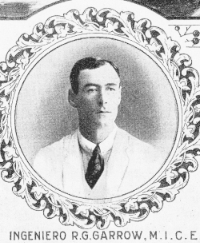 Far North Express 87 mentioned the civil engineer Robert Garrow who was the son of William Garrow, the Highland Railway's superintendent of the line.
Robert Garrow joined the HR in 1893 as a pupil of Murdoch Paterson, the chief civil engineer. His application for membership of the Institute of Civil Engineers in 1904 records that Garrow took part in the parliamentary surveys and prepared plans for proposed railways including "Fortrose to Cromarty, 15 miles; Forsinard to Melvich, 21 miles; and also for a light railway system through the Island of Skye", as well as for the Dornoch, and Wick and Lybster Light Railways. Other experience listed included being the assistant resident engineer for the extension from Stromeferry to Kyle of Lochalsh.
In 1900, after being the resident engineer for the doubling of the line between Blair Atholl and the County March, Garrow moved to the Caledonian Railway. Here he was the resident engineer for the extension of the railway pier and station at Oban. This was followed in 1905 by two years as the resident engineer for the contractor Charles Brand on the enlargement of Kirkcaldy harbour.
For four years from 1907 he worked for the Egyptian Public Works Department on the construction of dams and barrages. The director of reservoirs for the Department was another former HR civil engineer, Murdoch Macdonald (later Sir Murdoch Macdonald MP).
The experience in Egypt led to Garrow's appointment as engineer for the major irrigation work which the Buenos Aires Great Southern Railway was carrying out in the Rio Negro Valley on behalf of the Argentine government. The Inverness Courier for 19th May 1911 noted that this was a post he was 'excellently qualified' for. The project included a canal 75 miles long, reservoirs and a dam and brought 125,000 acres under cultivation at a cost of £1 million.
During 1916-1919 he served in the First World War with the Royal Engineers, mainly on irrigation schemes in the Middle East. He was awarded the CBE in 1919 for services with the Mesopotamia Expeditionary Force.
After the war Garrow returned to the Buenos Aires Great Southern Railway in 1920 as chief engineer. He was the second former Highland employee to hold this post, as a predecessor from 1898 to 1903 was Charles Mills who had been involved with the construction of the Aviemore line.
Robert Garrow retired to Scotland in 1930, just as the construction of several new lines was being completed and the mileage of the BAGSR was nearing 5,000. His last address before his death in Edinburgh in 1932 was Scotsburn House, Kildary.
Neil Sinclair
Family connections: the article Neil referred to in FNE 87 mentioned Donald Stuart's wife's great uncle, William Garrow, father of Robert. It is interesting to note too that Murdoch Paterson, mentioned at the beginning of the article is FoFNL member and railway author Anne Mary Paterson's great granduncle. These links with the pioneering work on the Highland Railway are fascinating.