High Time the HML Was Soaring Ahead
Over the next six months crucial decisions will be made over the future of the Highland Main Line (HML) and whether it will become a fast modern line fit for the 21st century.
With the commencement of the new timetable on 11 December, all concerned are to be congratulated on the introduction of a new train at 05:36 from Inverness to give an earlier arrival in Edinburgh of 09:21 and (by changing at Perth) a Glasgow Queen Street arrival at 09:14. This will help business people and others willing to spend 3 hours 45 minutes on the train to reach an early appointment.
The slow speed overall, with a ten minute long wait at Blair Atholl and a four minute wait at Pitlochry, underlines the need to get on with doubling the line. The early new train from Perth at 05:08 which has to wait 17 minutes at Kingussie, 9 minutes at Aviemore and 6 minutes at Carr Bridge makes this point even more forcefully. It could be more than 30 minutes quicker to Inverness if we had a double track line!
Will we get some more double tracking during financial control period CP5 (April 2014-March 2019)? We still await publication (in February 2017 perhaps?) of the long promised GRIP 3 report to know for sure. We are now more than halfway through this funding period with the finance not yet committed. The suggestions are that a much smaller amount of money will be spent to improve loops and signalling at Aviemore and Pitlochry and that this will be the only current spend on a line which is crying out for more track capacity.
Assurances are being made in good faith that the new trains will be much more punctual, will be presented at Perth (from Edinburgh and Glasgow) on time, the new timetable will be robust and all will be well. Money will be saved and that will be a good thing!
Forgive my scepticism, but all sorts of things can go wrong with trains being late south of Perth. Every late train is likely to cause delays on the beautifully dovetailed new service on the HML because it remains single track over much of its length and delays mean opposing trains having to wait in loops for a late runner and then themselves causing delays to other opposing trains later on in their journey. There is no escaping the fact that single track lines are unforgiving to late running, with the virus of a lateness being passed on from one train to another and another.
We are seeing this late-running-due-to-single-track problem now on the new Borders Railway. The Borders Railway does not have any freight unlike the Highland Main Line.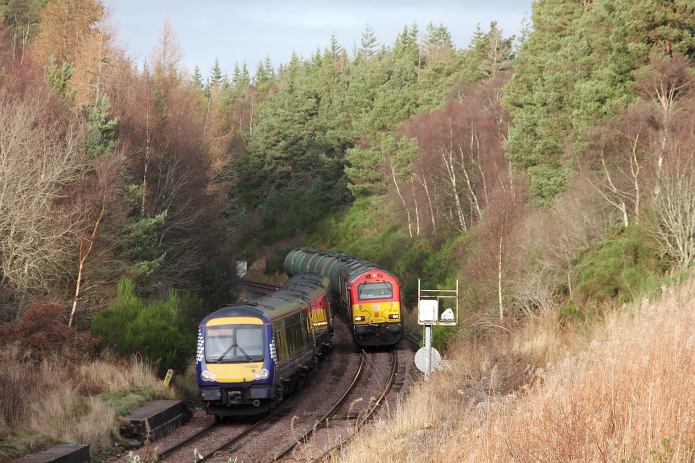 Sandy Colley
Freight runs more slowly than passenger trains particularly on long steep gradients and there are many of these on the HML. The requirements for railfreight on the HML were very clearly set out by David Spaven in his "Friends of the Scotsman" article in that paper on 27 December 2016. (Reproduced here)
The Government's CP5 objective for the HML is to facilitate "more efficient freight operations" and to provide an hourly passenger service between Perth and Inverness with two extra services each way daily by March 2019. Operating such a welcome demand-driven frequency of passenger services together with a mix of freight which runs at different speeds over the two long lengths of single track with passing places from Culloden to Dalwhinnie and from Blair Atholl to Stanley will continue to be a challenging juggling act.
Unless a start is made with more loop or double track provision in CP5, the majority of the upgrading work will be left to CP6 and that would bring us right up against the deadline to make the HML fit for purpose before the completion date for the A9 dualling of 2025. If we fail to achieve this, there is a very real danger of reverse modal shift from rail to road with more carbon emissions, and more road congestion in town and city centres.
Fulfilling the 2008 objectives
Let us consider the objective set by the Strategic Transport Projects Review in 2008 of a 2 hour 45 minutes headline journey time between Edinburgh and Inverness with the average of under 3 hours. Consider the outcomes requested by business leaders to have first arrivals in Edinburgh, Glasgow and Inverness around 9:00 and work back from what we have today.
The new 05:36 arrives at 09:21 in Edinburgh and at 09:14 in Glasgow (3h 45/3h 38 min), but there is still no arrival in Inverness from Edinburgh or Glasgow until 10:26.
The aims must be to get the 06:50 train to leave Inverness at around 06:40 and arrive at around 09:20/09:15 to achieve these goals. The northbound aim should be for a similar 06:30/06:40 departure arriving in Inverness by 09:15.
Currently, the fastest northbound schedule from Perth is 2h 2min (1h 59 on a Sunday) Southbound from Inverness to Perth is 1h 59 (1h 58 on a Sunday).
Fastest Glasgow to Perth is 59 min (53 min by an Aberdeen train).
Fastest Edinburgh to Perth is 1h 16min (1h 13 on a Sunday).
Combine these with a 2 minute dwell at Perth and you have 2h 54 from Glasgow and 3h 14 from Edinburgh to Inverness. A lot of line speed and signalling improvements will be required to achieve the 2008 goals and traction capabilities are also unknown.
FoFNL has been asking for many years for faster trains such as Voyagers to be given a trial on the HML. We do not know what an HST 2+4 can do but look forward to ScotRail's use of these with keen anticipation. Suggestions are that the new Virgin Trains East Coast Azuma bimodes will be slower on the hills than the present VTEC HST 2+9s.
This is the task facing the Scottish Government, Transport Scotland, and Network Rail/ScotRail Alliance so that the railway can more than hold its own against the improving A9 road. Come on boys and girls, step up to the mark please!
Richard Ardern