Far North Line Update
GOOD NEWS
There is good news this time as you will see elsewhere in our submission concerning Network Rail (NR)'s draft Scotland Route Study.
Proposals to resignal between Inverness and Dingwall replacing RETB with a conventional system and to install an additional loop are listed in the mix to be put forward for funding. Also included is the long awaited Georgemas chord to give direct access to Thurso (page 74).
Further suggestions are made around the likely remodelling of Inverness Station layout, upgrading the FNL to Route Availability 8 (RA8) for freight trains, creating a turnback or refuge siding at Dingwall and closure of level crossings (unspecified) between Inverness and Dingwall. NR will do further work on all of these issues prior to publication of the final version in July.
We need to stress that there is no guarantee yet that any of these will be given the money to proceed, but hopefully some things will be done to substantially improve the slow and congested Inverness to Dingwall section to the advantage of both the Far North and Kyle lines. There is no reference to the additional passing loop needed at Kinbrace (or thereabouts) to divide up the longest single track section (LSTS) in Britain between Helmsdale and Forsinard.
The campaign to have the Lentran Long Loop partly funded in the Inverness City and Region Deal does not seem to have found favour with Highland Council. We are most grateful to those MSPs and Councillors who supported us on this. It seemed to fit the bill admirably as the benefits would have been felt over a wide area of the north and west and not just by those in Inverness.
RECENT PERFORMANCE AND PUNCTUALITY
You will see elsewhere that further information about last year's delays has been revealed through parliamentary questioning, but reply S4W-29975 of 8 March to Rhoda Grant MSP has not been easy to interpret from the spreadsheet format of the answer.* It certainly provides the evidence that there is a serious problem with long delays occurring at Helmsdale northbound when there is late running and one train has to wait to access the LSTS. The problem was explained in greater detail in our last issue. We are now collecting the evidence.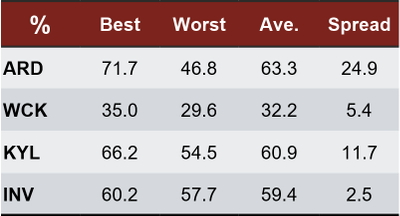 Abellio ScotRail's unattributed Performance Update posters have been appearing monthly on stations since last May. These measure what percentage of actual arrivals at destinations were no more than 59 seconds late. On the FNL figures are given for Ardgay, Dingwall, Invergordon, Tain and Wick. Ardgay has only one terminator and Wick four on weekdays.
Kyle and Inverness have been included for comparative purposes. Inverness figures will include services from all lines. Wick's score declined from 35.0% last June to 29.6% in January and February improving to 31.1% in April. It is very low, though not as low as Balloch and Milngavie in April.
The performance of the 17:12 from Inverness to Ardgay has been steadily improving from 46.8% last June to 65.4% in April. This service is important as it daily carries many of the line's regular commuters.
[ScotRail is buying new Hitachi electric trains. Japanese reliability is such that if a train is delayed for more than five minutes, passengers are issued with a delay certificate to give to their employers. Might we get to that utopia on the FNL once the 158s are retired?]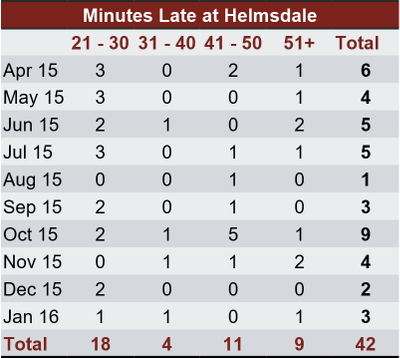 Overall, apart from Wick, there has appeared to be some improvement in timekeeping and reliability, but the service is still far from satisfactory for passengers. Wick suffers from being at the end of a very long and difficult to operate line. It is likely that the LSTS problem delays at Helmsdale is exacerbating the problem, this is more evidence that the Kinbrace Loop is so desperately needed as the table of major delays at Helmsdale (averaging 4 per month) shows.
In recent weeks punctuality seems to have deteriorated with a larger number of train faults. The refurbished 158s fresh from the works have not been immune from this. A new disability compliant toilet and a second wheelchair table and companion seat are the main changes together with the removal of First Class. This second wheelchair table can be made down into a bike rack, but the disability legislation means that these third and fourth bike spaces can no longer be reserved, a big blow to families wishing to travel together.
FINGERS CROSSED
We are waiting with fingers crossed to see if the timber industries are going to get together and endorse HITRANS' "Branchliner" project to take timber out from the Flow Country by rail from Kinbrace. A huge volume over many years is on offer and the possibility of including a passing loop in the project is a golden opportunity to improve punctuality and capacity on the line.
The RETB signalling system is still being upgraded with no date yet for completion. The Caithness Courier on 4 May published many pictures of the Great Britain 9 land cruise train from London via Penzance which was steam hauled from Inverness to Thurso with a diesel on the other end on Sunday 1 May it is a long time since Thurso has seen a 10 coach train. A regular locomotive-hauled service may be possible in the future under plans proposed by Orkney Councillor James Stockan, Chairman of HITRANS. Once the Caledonian sleeper gets its new carriages in 2018, this idea would see some of the current vehicles used to provide a sleeper service between Caithness and Edinburgh. A dream perhaps, or an exciting prospect?
Richard Ardern