Bikes on Trains
During March and April there was a flurry of letters in response to articles in both The Herald and The Scotsman about the reduction by Abellio ScotRail in the provision of cycle spaces on trains. The irony of the Dutch parentage of the current franchise holder is not lost on the various writers. There are two totally separate issues, as Abellio is at pains to point out: commuting and touring. It is the worsening of the, already difficult, provision for cyclists which has most exercised critics.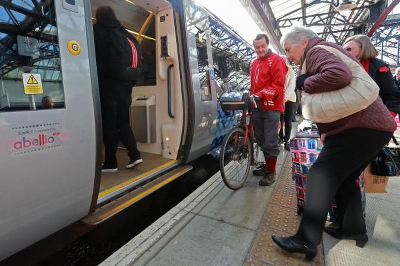 This is specifically the decision to fix the number of bookable bike spaces on refurbished Class 158 units at two. This particularly impacts the Far North Line which, until recently, has had the fairly exclusive use of units refurbished in 2007 for the FNL, which had four spaces to reflect their work on this line. On the West Highland Line the situation is worse with the forthcoming replacement of Class 156 units, each having six spaces, with 158s. Abellio, in its defence, suggests (albeit rather strangely) that as it will be lengthening trains and running a more frequent service it is increasing bike provision. This may be true in terms of the daily total of bike spaces provided but a four coach train of two Class 158s will still only have four spaces compared to each two-coach Class 156 which had six. Anyway, the daily total is no consolation to a family that is no longer able to travel together.
On heavily used lines it is clearly difficult to balance the significant space taken up by a bike against room for passengers but on rural and scenic routes this is less likely to be an issue.
Abellio is clearly at risk of shooting itself in the foot, alienating cyclists by pointing out how pro-bike it is, when people may no longer be able to book their bikes onto the train of their choice.
The Herald carried a letter on 7th April written by Dave du Feu of Spokes, the Lothian Cycle Campaign:
Several readers have blamed Abellio for the proposed worsening of bike carriage spaces and conditions on the West Highland and Central Scotland lines (Letters, March 30, April 1 & 2).
However, the problem in fact originated with the Scottish Government and its agency, Transport Scotland, in its Franchise Agreement (FA) with Abellio, and their preceding Invitation to Tender (ITT) - and it could now be solved by Transport Scotland.
The ITT and FA contain much that is good for cycle/rail integration, but, crucially, and as Spokes pointed out to the Government several times, it was half-hearted on bike carriage. Transport Scotland appears fixated on maximising fixed seating, regardless of the flexibility needed to ensure that trains are fit for both peak and off-peak, for commuting and for leisure and tourism. The ITT and FA merely requested a minimum of two bike spaces per train - regardless of current bike storage or of length of train. Thus, in proposing to cut bookable bike spaces from six to two on the West Highland tourist routes, or downgrade the type of Edinburgh-Glasgow bike storage (despite longer trains) Abellio is merely following the criteria in the FA.
Transport Scotland has the power to specify that current bike capacity should be maintained, and could do that now if it so wished, as it has to approve all new train configurations. We do understand that they have moved a little way, following your coverage and continuing pressure from the tourism industry, and are investigating at least a partial amelioration of the West Highland proposals. Ideally, Spokes would like to see a flexible space in every carriage, as is common in Europe, allowing more people to travel with bikes, prams and bulky luggage, particularly off-peak, and giving a bit more peak-hour standing space in crowded trains.
Finally, we cannot let Abellio off the hook completely, since its website, on taking over the franchise, promised "improved off-peak cycle capacity on trains" and, for the scenic trains such as West Highlands, "more luggage, cycle and ski storage" - promises clearly not being kept if the present proposals go through unamended.
I asked two FoFNL members for their views/experiences. This from Katherine Wren who lives nowhere near the FNL:
I agree with the general idea of flexible luggage space for prams/bike/skis/large luggage items.
Best use of bike space was on the old-style sprinters (Class 156) - hung vertically from hooks. Allows 6 bikes in a small stowage space.
Hire bikes are a good option and may mean that fewer people need to take their bike on the train thus freeing up more bike spaces, but it is not always possible or desirable to use a hire bike.
In my own case, if I'm working in Glasgow on a Sunday morning there is no train available to get to work by 10am from where I live. I have to ride over twenty miles to Croy on my own bike and then transport it on the train into Glasgow and home again.
If I'm racing I need to transport my own bike. If I'm touring I need to transport own bike to/from start/finish. There seems to be an assumption that I could do that by car, but I don't have, or want, a car.
I agree with the point made in the correspondence about families not being able to travel together, especially when trains are more than an hour apart. Cycle tourism is a big part of the economy and being pushed heavily by VisitScotland, not just Land's End-John o' Groats and the new North Coast 500 route.
If a bike is booked on a train, this must be honoured as onward travel may depend on it.
You need to be able to book your bike online. It's no good booking an inflexible ticket only to find later that you can't take your bike - you end up throwing money away!
These are the experiences of Mary Langridge, another FoFNL member:
First used the FNL with a cycle in 1968 - return Orkney to London. Recall paying half-fare for the cycle up to a price limit. Economical on a long or short journey. No problem with trains - guard's van.
From 1977 bikes carried free. Only recall one occasion (late 1980s) when we couldn't board a train with our cycles in the days of guards' vans. There were five of us travelling from Pitlochry to Inverness. Luckily fitted onto a later train.
Lucky the £3 cycle booking fee coincided with having teenage children. A favourite trip when they were younger had been cycling to Nairn with a picnic in the woods at Cawdor on the way then taking the train home. The fare for passengers (with railcard and Railrider Tickets) was less than £10. Suddenly an extra £16 had to be found. I once calculated we had 'saved' about £100 as a family over 6 months by not enjoying rides like this. (Likewise not using trains from Inverness to Carrbridge then from Nairn to Inverness with a cycle ride over Dava Moor saved us £32). Multiply that by other individuals and families to see how much British Rail lost.
Since guards' vans have disappeared the number of cyclists has increased, particularly over the last 10 years.
We have lost spontaneity. If the weather turns out to be nice we can no longer make a last-minute decision to cycle somewhere because the lack of a cycle space could scupper our plans.
On occasions when going to Edinburgh and beyond we have had to travel on separate trains because of lack of sufficient cycle spaces. That's not a major problem when trains are frequent but it is in the Highlands and entertaining children is easier with two parents than one.
We used a tandem with the children for a spell. We could take it on the guards' vans. That is no longer possible, with the exception of sleepers, unless I am mistaken. Tandems are very useful with young children not yet dependable in traffic. Today Rann trailers and equivalents are frequently used. I'm not sure how they stand with train storage. Family members are future independent rail users.
Trains help cyclists; especially the retired with frequent opportunities to spend days out and also young families who buy multiple tickets. Retired cyclists with plenty of opportunity to cycle could spend large amounts annually on rail travel.
Using public transport means you can start and end a journey at different point.
Ian Budd