News From the Central Belt
On 27th January, Transport Scotland reported that phase one of the Edinburgh Glasgow Improvement Programme (EGIP) - the currently approved section between Newbridge Junction and Queen Street, along with Springburn to Cumbernauld - has a Benefit:Cost ratio (BCR) of only 0.7, or 0.8 if wider economic benefits are taken into account. Generally, BCRs of less than 2 are not considered for development. Phase 2 - Dunblane, Alloa and Falkirk Grahamston - achieves only 1.3 or 1.7 with wider benefits. The document does admit, though, that some of the benefits associated with increased capacity have not been taken into account and there is no suggestion of curtailment of the programme at this stage.
Meanwhile, Network Rail has launched a public consultation on a £104m transformation of Glasgow Queen Street station. There are two phases to this: 25th February to 31st May and, following on from feedback received, a further period from September to December. Network Rail tells us that construction is due to begin in 2014 and complete in 2019. The redevelopment will:
Create a landmark, modern station which reflects Queen Street's role as a gateway to the city and also as an important departure point for visitors heading north
Redevelop the east side of the building to extend the Buchanan Galleries and create new passenger facilities over two levels
Redesign the concourse to double public floor space, extend platform lengths, improve passenger circulation and enhance waiting areas, entrances and catering/retail space
Replace the current 1960s entrance, and the hotel extension above, with a 500m2 modern glass frontage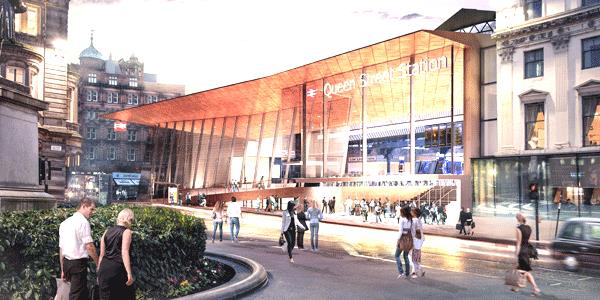 The work is necessary in order to be able to run eight-car trains into the station for the final phase of EGIP. There is no mention of integrating the adjacent Buchanan Street Subway station better nor whether it will retain its present name. The Buchanan Galleries are currently largely located on the west side of Queen Street station but also spread above the railway north of the station. As far as we can tell, they will be extended over Bath Street into the area on the east of the station currently occupied by car parking and the taxi rank.