Control Experience
Since 2014 the ScotRail Alliance Integrated Control has shared a new building at Cowlairs, not far from the northern exit from the Cowlairs Tunnel on the Edinburgh-Glasgow main line. It is set in the triangle between the E&G, the City of Glasgow Union Railway which connects Springburn to the E&G towards Bishopbriggs and the 1992 Cowlairs Chord which gives a direct connection from Glasgow Queen Street to Springburn. The building also houses the West of Scotland Signalling Centre.
I was very fortunate to be invited by David Simpson, ScotRail Operations Director, to hold one of our six-monthly meetings there and to spend the afternoon being shown the workings of 'Control'.
The striking first impression is that the people who work there are very proud of how well it functions. They were keen to show me the benefits of them all being in one large room. All monitoring, and operational decision-making in response to events, is now done in one place.
Workstations are arranged in long rows back-to-back so staff often communicate by standing up and talking over the top of their monitors to their colleagues on the opposite side - much quicker than any electronic method!
Control brings together staff from Network Rail, ScotRail and Hitachi (makers of the new Class 385 trains), covering all aspects of operation, including arranging train maintenance schedules (and emergencies), as well as the more obvious monitoring and troubleshooting. A large screen at the end of the long 'boardroom style' table along one side has a live display of real time performance, including a prominent, constantly updating, PPM (Public Performance Measure) figure. This screen, and others strategically placed, include news and weather reports - vital information!
I was able to spend time sitting beside various staff as they worked and answered my questions at the same time!
I spoke at length to Network Rail Route Control Manager, Bobby Scott, whose job is to keep trains to the timetable and to decide how to prioritise trains in a late running situation. He emphasised how important it is for him to consider all the TOCs (Train Operating Companies) and freight operators fairly, making judgments based on the greater good in any situation.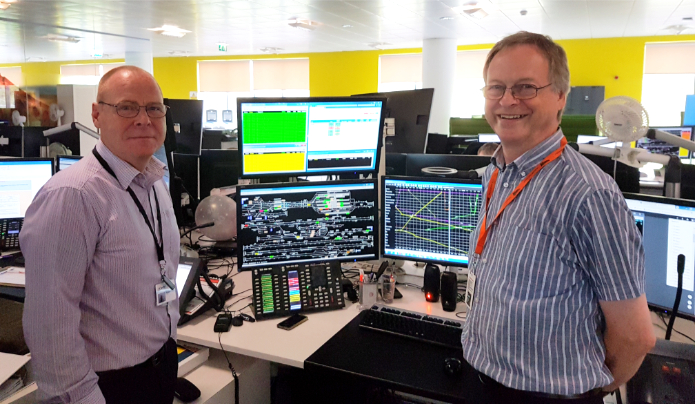 I had a long conversation with a Hitachi employee, one of two in Control who monitor the new Class 385 electrics in real time. This means that they can see the same warnings that the driver sees in the cab at any given moment, including the speed the unit is doing! He told me that drivers will sometimes phone in to ask for technical advice while at a station.
Something I was particularly keen to do was talk to the person whose job is to put up any problem announcements online and at stations. I discovered that the same person also books buses and taxis when there is disruption. The messages about the reasons for delays are chosen from drop-down lists and templates.
During my visit news came through that some lineside equipment at Tomatin on the Highland Main Line had been struck by lightning, disabling a set of points. All trains were halted and the whole room seemed to spring into action. Phone calls had to be made to Network Rail engineers to attend. Hurried conversations took place with train conductors to find out the needs of passengers who were now going to arrive very late and miss onward connections. Information for travellers was rapidly posted online and on the station CIS. Buses and taxis were booked where needed, including a taxi to Ullapool for two passengers whose late arrival in Inverness would otherwise mean an overnight stay. What was most striking was that although everyone was moving fast to confer with colleagues, or speaking rapidly on the phone, there was no drama in the room and quite quickly everything required had been done.
One question which had always concerned FoFNL was about the 'remoteness' of Control from the FNL. It was pointed out to me that the staff specialise in geographical areas, some having been in charge of the same area for many years and that their local knowledge was as good as it would be if they were physically nearer. Add this to the easy verbal communication to all the staff working on Scotland and they felt this was by far the most effective way to work.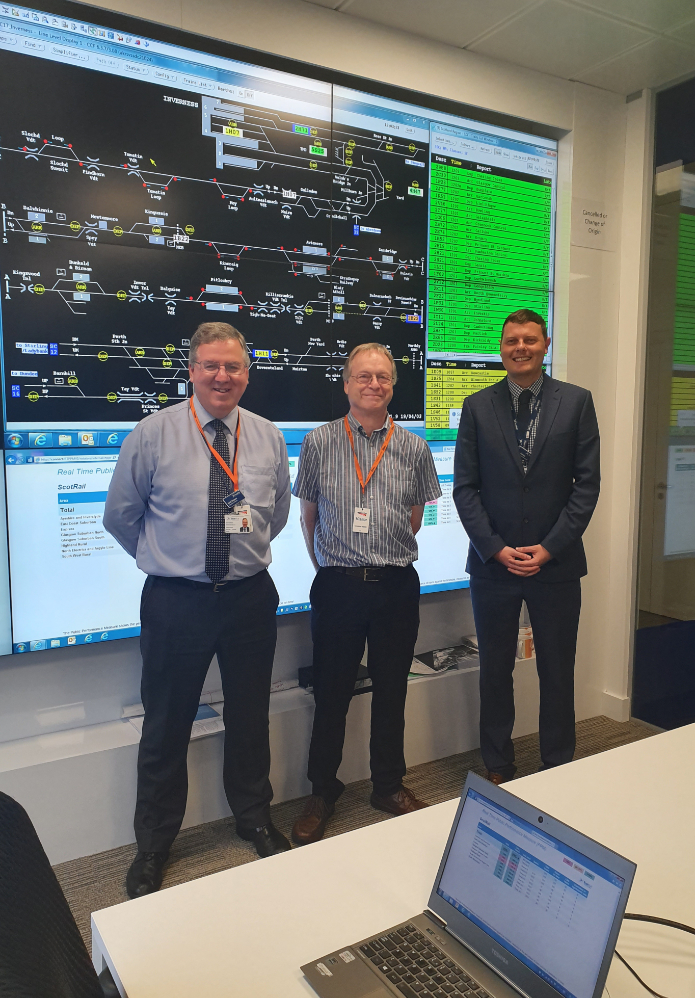 At the end of my visit I was able to have a long conversation with Mark Ilderton, who reports directly to David Simpson but is stationed in Control. He is the manager of both the SR and NR control teams.
I asked Mark about the drop-down lists and templates mentioned above. He said that FoFNL is welcome to put in suggestions and comments, which would be fed in to the six-monthly meetings which are held to discuss IT matters. I mentioned that we liked the idea of making it clear to the public when a delay's real cause is that the line is single track. It would help to raise public awareness about deficiencies in the infrastructure.
He was keen to show me a new system which is in place to help with decisions about trains from England heading for Inverness or Aberdeen. Traffic Management Statements are now attached to crucial trains. Generated from knowledge and experience, train graphs (showing conflicts) are applied to 'trigger trains' i.e. those whose late running is most likely to cause disruption, so that they can be given priority as they pass through certain places. He gave the example of the 10:00 Kings Cross to Aberdeen which, if more than 14 mins late approaching Dundee, will be held to allow the 14:41 Glasgow Queen Street-Aberdeen-Inverness to run ahead. This is because of the single line sections later in its journey which, if it presented late, would cause bad disruption between Aberdeen and Inverness.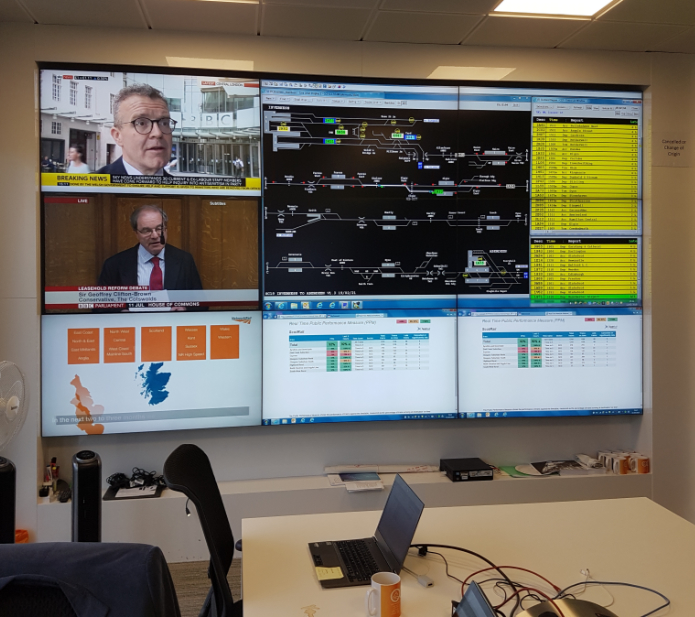 Having been given the chance to see for myself how things are done, and witness the care and enthusiasm of the staff, I wish it were possible to convey something of this to the media which is so quick to jump on the slightest failing in the rail system as though it's a national scandal.
These are the people at the sharp end of rail operation and everything they do is aimed at making the system run like clockwork.
Ian Budd