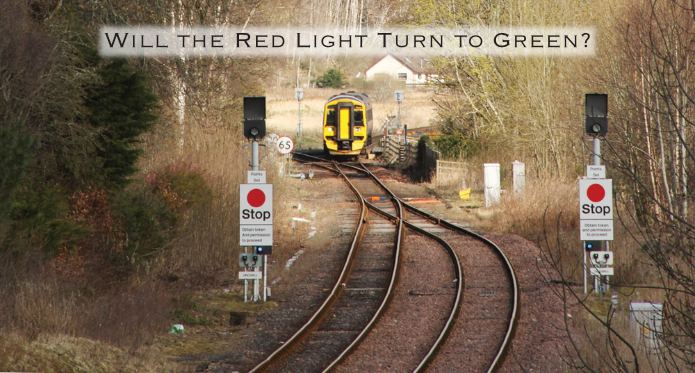 Our AGM gave us some confidence that design of the Delmore Loop just north of Inverness is well under way and will be put forward for funding soon. The operational changes to the Far North Line in 2005, which unfortunately brought about a 25 minute deceleration to the end to end journey time, flagged up the urgent need for a loop near Lentran. Timings have hardly changed since then and any en route delays mean passengers are still being seriously inconvenienced and missing connections because of this. That it will have taken nearly 20 years to get this capacity improvement made is highly regrettable.
Funding for everything has got more difficult in the present uncertain economic climate. Highland schemes which have slowly and painstakingly worked their way up the pecking order are particularly vulnerable to being put on the 'To Do' shelf waiting for the purse strings to ease.
When the money situation does ease, history has shown that their funding bid has to start again but in a new situation where they are competing in an expanded pool with other new and desirable schemes which have since appeared. We have seen this so often before.
The UK Government's "levelling up" agenda was supposed to see their Treasury Manual revised to put less emphasis on BCR (Business Cost Ratio) and more on spreading economic progress including new (and retained) jobs being more widely distributed, rather than the current effect of making London and SE England more and more dominant year on year.
It was therefore sad in Scotland to see our ongoing Strategic Transport Projects Review (STPR2) continuing to put so much emphasis on 'most bang for their buck': "Future passenger rail investment should therefore be targeted on the strongest city-to-city markets as these are the routes where the greatest value from improvements will be realised." [STPR2 Draft Technical Report, P100] This will have the effect of strengthening the economies of Central Belt conurbations and increasing centralisation to the disadvantage of the rest of Scotland.
To my mind the word "Strategic" means having a strategy which ensures the smooth running of the whole nation. It should not be a stratagem which gains further advantage for those who are already well provided over those who are relatively disadvantaged!
At the moment train and ferry services to the further parts of Scotland are seriously challenged by lack of capacity. Rail communications in the Highlands are blighted by too many stretches of single track railway which lengthen schedules and exacerbate the effects of delays, passing them on from one train to another. The capacity to introduce any new freight or passenger services between Perth and Inverness, Aberdeen and Inverness, and Inverness to Wick and Kyle is almost non-existent.
More train paths are needed now in response to the Climate Emergency, to meet the 20% road traffic reduction target by 2030 and to reduce emissions from transport.
Prior to the electrification of both the Highland Main Line and Aberdeen-Inverness (which seems not to be expected before 2030), capacity enhancements are badly needed. Up until 1987 the Crofting Counties Roads Scheme helped to double single-track roads in the Highlands. Would a similar specially designated fund be a quicker way to achieve this for Highland railways?
Aberdeen-Inverness
The recent redoubling of the line from Aberdeen to Inverurie has allowed a three-fold increase in the number of trains at certain times of day, and a hugely improved service.
However, services on the continuation of that line from Inverurie to Inverness are still seriously crippled by lack of further capacity. The first STPR in 2008 promised a reduction to two hours of the journey time between Aberdeen and Inverness. This was Priority 4 and had a target date of December 2016.
Successful trials of freight trains for whisky and timber have still not yet led to regular services and those freight trains which had to use the route as a diversion (when the line south from Aberdeen was blocked at Carmont for two long periods) could only do so once certain passenger trains were cancelled.
The short new loop currently being built at Inverness Airport Station (Dalcross) will help to make operation of the line a bit easier, but the real impediment is the 18 mile single track section from Elgin Station to Keith Loop (just east of Keith Station). Such a bottleneck on the road would not be tolerated - it would be like having to wait at a set of traffic lights on red for 20 minutes.
The solution to this is to reinstate the Orton Loop just west of the Spey bridge, preferably extending it as a dynamic loop for several miles towards Orbliston.
Given that the Aberdeen to Inverness line improvements were given such a high priority in 2008 it was a real surprise that this work was not included in the 45 enhancements proposed in the 2022 STPR2 redraft. Representations have been made by many consultees to have this corrected.
Reinstated loops are also needed elsewhere on the Inverness-Aberdeen route, in the vicinity of Cairnie Junction and Pitcaple. It is ironic that a line with such potential for tapping in to the profitable whisky industry in Moray and the former Banffshire, which provides so much tax revenue, should be so starved of investment.
The Aberdeen to Inverness line is the only diversionary route to Aberdeen or Inverness when blockages occur between Dundee and Aberdeen, or on the HML north of Perth. Freight contracts are particularly valuable and the trains must get through otherwise the traffic may be lost. It is strategically vital.
Far North Line
On the Far North Line, having now begun the process of addressing single-track limitations, reinstated loops at Kildary, Kildonan (or Kinbrace), and Altnabreac would greatly reduce the serious delays caused by late running escalating to other trains on the line. They would also help increase capacity.
Highland Main Line
On the HML there are four places where new or reinstated loops would be very helpful: Ballinluig, Newtonmore, Murthly and Daviot (where the double-track out of Inverness formerly ended before being cut back to Culloden).
Conclusion
That providing the capacity for more freight and passenger trains is urgent is obvious from the new summer timetable's deceleration of trains from the Central Belt to Inverness. Trains now have extended dwell times in Perth station to wait for a clear path north. The 19:07 Glasgow to Inverness for example has a 5 minute pathing allowance north of Blackford and another of 8 minutes between Hilton Junction and Perth, followed by a 10 minute dwell in Perth station. At that time of night HML passengers would much rather get home around 20 minutes earlier i.e. 22:19 rather than 22:39 in Inverness!
The 15:07 Glasgow to Inverness is similarly challenged with a 15 minute stopover in Perth.
Both First Ministers since 2008 have said, "Railways must compete with roads". Please give us the tools to do so. The red light on capacity urgently needs to turn green on these lines.
Richard Ardern
Heading photo of Dingwall North Junction, by Sandy Colley