Rail For All
The Scottish Green Party's Rail for All report, which we referred to in a STOP PRESS in the January issue of FNE, has had an excellent response from railway experts. The report was commissioned for the Scottish Greens by John Finnie MSP, who is also one of our Vice-presidents.
The authors of the report are both well-known to FoFNL. David Spaven, much respected railway history author, freight expert and FoFNL Committee member needs no introduction. David Prescott is also an FNE contributor and describes himself as "a career railwayman who has spent twenty five years working in Scotland, with ScotRail and subsequently Transport Scotland, and someone who has been involved in community railways and also wider community issues".
We've been given permission to reprint this article which appeared in issue 924, the 10 February edition, of the UK publication RAIL. Although lengthy, it is worth reproducing in full as it argues in some detail why this is the kind of vision that it is imperative the Scottish Government adopts.
Scottish Greens "go Forth" with bold vision for rail north of the border
For the first time in recent history, a national party has set out a detailed strategic plan for the railways. GARETH DENNIS interrogates the Scottish Greens' "Rail for All" report.
The COVID crisis in the UK has shown how important it is to have a plan, but this isn't news to those of us wanting to see improvements in the rail industry. Pretty much every problem the railways in Britain are facing now results from the lack of any attempt by government to create a long-term plan.
This is for all sorts of reasons, but a lack of interest in detailed policy at the party level is certainly a contributing factor. Indeed, at least in recent memory, not a single national party has published their plan for what the railways should look like (physically, not just organisationally) in the future.
Well, with the recent publication of the Scottish Green Party's Rail for All report, this is no longer true, and I hope this sets in motion a little more interest from the major parties in setting out practical change for the railway industry rather than repeating slogans without substance ("reverse Beeching" and "nationalise it" being common offenders).
On picking up the report, it didn't take much of a scan to realise that, contrary to my expectations, it was both a bold and technically literate document that I couldn't really find much to gripe about.
Before pressing on with my summary, it is worth setting out some key points about Scottish politics.
Firstly, despite what a lot of people south of the Scottish border might think, rail investment isn't at the top of the transport agenda in Holyrood. The Scottish National Party has pressed ahead with its largely pro-road agenda since it took control of the Scottish Parliament in 2007. The Perth to Inverness corridor is a good example of this bias, with barely tens of millions having been spent on the Highland Main Line despite a continued commitment to the £3bn A9 dualling (with hundreds of millions having been already spent).
Secondly, an arguably more democratic voting system in Scotland means that multiple parties get involved in top-level decision making (and get a greater slice of funding for these functions). This has the side-effect of providing more opportunities to do policy development, and in the case of the Scottish Greens, this meant looking at tackling Scotland's largest source of greenhouse gas emissions: transport.
Thirdly, it is worth noting that the Scottish Greens are an entirely separate political party from the Green Party of England and Wales (GPEW) who operate south of the border. Unlike the GPEW, the Scottish Greens have experience in supporting government decision making at a national level.
The Scottish Greens have grasped the opportunity to fill the gap left by the other parties, and in doing so they have also shown up the GPEW's explicitly anti-rail stance (embodied by their opposition to High Speed 2). In fact, the document is written in places as if in direct response to the GPEW's confused messaging (they also allegedly support a north-south high speed link).
Here's the opening paragraph: "Whilst many European countries have built high-speed lines and long-distance connections that criss-cross the continent and provide an affordable, comfortable and low-carbon option for commuting, business and leisure travel, Scotland and Britain as a whole has systematically under-invested in the rail network in favour of roads." A more precise jab to the eye of the GPEW I could not have penned myself.
The Rail for All report is broken into eleven themes: creating the delivery infrastructure, inter-city services, regional services, rural routes and rolling stock, commuter and urban connectivity, new stations, reopening freight lines for passengers, shifting rail onto freight, electrification, costings, and COVID. The first is on overarching governance and, on this matter, I think they've got it spot on.
This has been split into four streams, with the first aiming to streamline decision-making and undo the bias towards road projects in the Scottish Transport Appraisal Guidance (STAG - functioning in a similar manner to WebTAG for the UK government). STAG exists alongside Network Rail's GRIP process, as well as government's internal business case process, and these all duplicate and get in the way of each other. The Greens also propose pushing the process towards more rolling programmes of work chasing a single objective (such as electrification) to speed its process through these governance frameworks.
Next, they propose creating a single state railway owner and operator. Operationally, this is a no-brainer for a largely captive network like Scotland's where there aren't a multitude of competing operators, and would also bring track owner and train operator together (a trend that we shall see playing out south of the border over the next few years, too).
The final governance proposals are key: create a strategy, take party politics out of it, and establish a dedicated government team to deliver it. As with the rest of the report, there is a lot for others to heed here.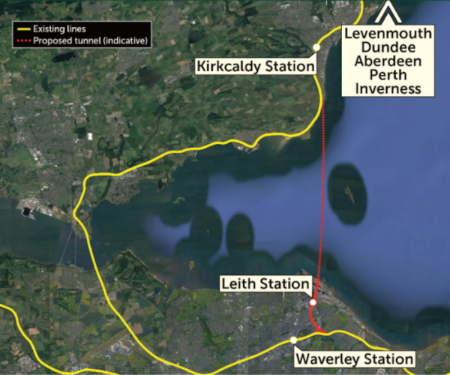 Anyway, on to the headline-grabbing bit: namely the new connection between Edinburgh and Kirkcaldy under the Firth of Forth, including a Leith underground station. The whole thing, including two nine-mile single bore tunnels, is expected to cost up to £6bn.
This is a really good idea. Think about it: currently the western approaches into Edinburgh are completely clogged, as are the north and south ends of the Forth Bridge. The Bridge itself (marvellous as it may be) represents a blocker on speed and capacity, as does the Fife coast. The cost of resolving these, or bypassing them with shorter interventions, would run into the billions. So why not use a new tunnel to bypass the western approaches into Waverley to reduce long-distance journey times north of Edinburgh and build capacity into Fife?
It is also an eminently achievable idea: we've dug tunnels under the Forth for centuries. We've even dug tunnels from one shore to the other. Leith is as good a place as any to build/launch tunnel boring machines, being port-served and with plenty of brownfield land to make use of. The station will be complex, but well understood geology under the Forth means that the tunnelling doesn't have to be.
A new tunnel isn't an excuse to abandon or belay upgrades to the existing lines: as with HS2, this would allow the remaining network to run more frequent suburban and commuter services. It is a bold plan, but I like bold plans that make operational sense.
The other intercity interventions are all sensible enough and add up to be no less substantial than the new tunnel - in all cases the authors show their understanding of the subject matter by regularly pointing out that segregating high speed services results in direct improvements to local services, and for a network the shape of Scotland's, these effects are felt nation-wide.
The next section is on regional services, and the report again shows how it is based on a solid understanding of the interaction between the different types of rail services, and indeed between infrastructure and operations.
The same goes for the sections on rural routes, rolling stock procurement and some sensible proposals for tram-train in Edinburgh, Aberdeen and Dundee (though Glasgow deserves a more substantial capacity uplift than tram-train can provide, in my eyes).
One of my favourite parts of the report, which shows the pragmatism and technical understanding that went into it, is the Greens' plan to "reopen" lines - they don't propose to. Instead, they state a method for determining need - towns with a population greater than 5000 should have a station - and leave the solution open-ended.
Freight and electrification get sections of their own: acceleration of the uptake of both is proposed. Whilst being supportive of current electrification goals, the report calls for more ambition (which matches with what other sustainable transport advocates are saying in relation to the rate of decarbonisation). The proposals all fit with the wider vision and governance framework detailed earlier, and I don't think there's anything contentious or contradictory within them.
Which brings us to the final sections. Costs are pulled out and tabulated, and despite the ambition of the Greens' shopping list, the Rail for All plan totals £21bn for delivery by 2040. That averages at £1.1bn a year, which is peanuts to put it bluntly. For scale, Scotland's capital transport budget for 2020-21 was £2.1bn.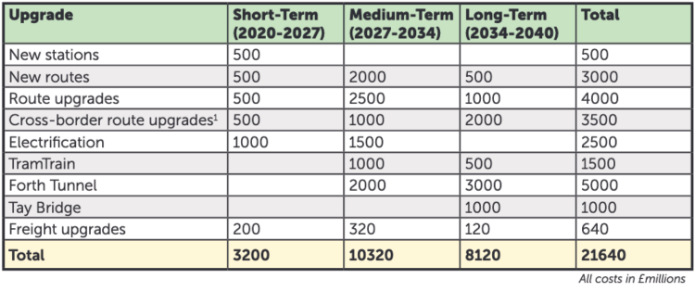 Perhaps most pleasingly, and unlike so much literature in circulation just now, the Scottish Greens have the foresight to be absolutely clear that rail must be a cornerstone in our recovery from COVID. They not only point out the pressing need for modal shift to rail to tackle climate change, but also the number of skilled, stable jobs that railway investment can create, particularly when delivered against a robust long-term strategy.
It might not be perfect, but until the other parties catch up, I think we should congratulate John Finnie MSP and his team for getting their heads around the needs of the rail industry and setting out their plan more effectively than anyone else. Let's see if it gets noticed.