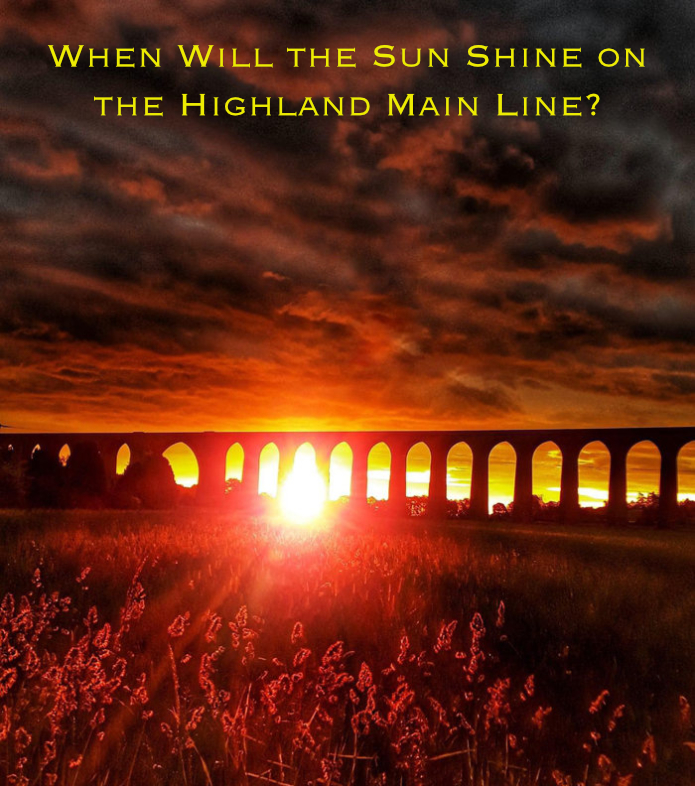 The 2008 Priority speed-up still has a long, long way to go; the track record is desperately disappointing and we are all on tenterhooks to hear how much longer it will take under the 2021 [or will it be 2022] iteration? Enhancements to achieve Inverness to Edinburgh journeys in an under 3 hours average and the capacity to run extra freight trains under the declared climate emergency are not there.
All those Parliamentary Answers over the years that the HML upgrades would likely include reinstating passing loops at Ballinluig and near Newtonmore came to nothing when the CP5 budget for HML enhancements was cut from £125M to £57M and thus limited to spending solely on useful enhancements to the existing loops at Aviemore and Pitlochry. The latter is still not long enough to cross two freight trains which is where Ballinluig would really help.
July's Office of Rail and Road annual report on Network Rail (p 109) reports a "Rescheduling which caused delay of track circuit renewals between Blair Atholl and Dalwhinnie." Meanwhile the dualling of the A9 powers ahead with opening of the £96M 6 miles (9.5km) Luncarty to Pass of Birnam section. Both First Ministers have said that "railways must at least compete with roads." The reality is that the Highland Main Line is falling further and further behind and is way short of reaching its potential or playing its proper part in the climate challenge.
The HML and the Aberdeen to Inverness (A2I) lines are vital to the Far North Line, being its rail access routes through Inverness. All three lines are restricted in capacity by long sections of single track. There are indications that the long sought passing loop around Lentran on the FNL is being designed for construction in the next two/few? years. A short loop at the future Dalcross Airport Station has also been designed to ease the 15 mile Inverness to Nairn single track constraint.
We are really concerned that there is no word yet of the Orton passing loop on the 18 mile Keith to Elgin section of the A2I line, or of the two loops mentioned above on the HML's two longest single line sections of 13 miles each. Eventual provision will make it so much easier to operate these lines punctually with capacity for the rail freight upsurge and the speedier hourly frequency promised in 2008.
Process and Procedure developed over the last few years has introduced a veto on enhancements until the hurdle below has been cleared. Now they require exhaustion of "the ability to derive maximum utility from the existing network through whole industry measures that can make the best use of existing railway assets, fully exploiting timetable/service-based opportunities and rolling stock options."
This has seen it now proving extremely difficult to draw up acceptable timetables from May 2022 for both the HML and the A2I without decelerations. I believe it is now obvious that the threshold has been passed and the extra loop capacity was urgently required "yesterday".
The 2021/22 Programme for Government statement to Parliament was rescheduled for a week later than 31 August thus missing our Press Date. Will it contain anything about planning rail works for the HML? Or was all that is to be said in Nicola Sturgeon's reply to new MSP Emma Roddick's concerned question that day (see p18)? They were warm words, but no dates yet (after 12 years) for firm progress. The change of Ministerial tack in 2011 on this major No. 3 priority transport project has lost us ten years with the line no longer fit for modern use nor ready for its due climate-change-busting role.
When will the sun shine again on the Highland Main Line?
Richard Ardern