BaDAG in the News
Northern Times - 12th August 2016
Brora action group gets stuck in for transformation of railway station
Last Friday members and friends of the Brora and District Action Group (BaDAG) carried out the transformation of a previously weedy and overgrown area of the northbound platform at Brora railway station.
With a generous donation of three very large sacks of decorative ballast from Abellio ScotRail, the group worked hard all afternoon. Andrew Bridges, a member of the BaDAG Station Working Group said: "It was a wonderful afternoon with a great sense of community spirit as the regular group of volunteers were joined by head teacher at Brora Primary School, Dawn McKenzie, and local Highland councillor Deirdre Mackay.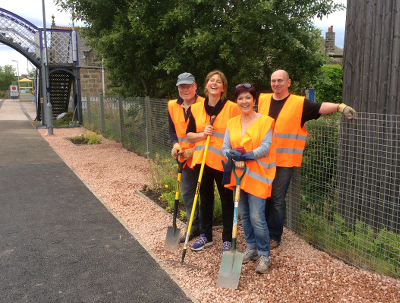 "Although it was hard work shifting three tonnes of rocks, when we had finished we were all totally amazed at the transformation which had been achieved."
"This is hopefully just the start of some changes that both locals and visitors using the station will notice with more improvements planned for the future."
Abellio ScotRail recognises BaDAG as station adopters and is supporting them through the provision of a small budget for planting and landscaping improvements.
If you are interested in helping with the work, please get in touch via BaDAG's Facebook page, or email Andrew Bridges directly.