Inverness - Aberdeen Update
A NEW RAILWAY FOR THE NEW YEAR
All concerned are to be congratulated on the improvements made to this line which came in to service on 17 October. According to Network Rail's retweet of an "insideMORAY" article all this work has cost £80M.
The new station at Forres has two platforms, lifts and more car and cycle parking spaces. Elgin and Insch now have platforms to cope with six coach trains, and the signalling system on substantial sections of the line has been fully updated and these are now controlled from Inverness. Train services should be several minutes faster but this has not yet been written in to the timetable. Arrivals at Elgin from Forres are now frequently several minutes early.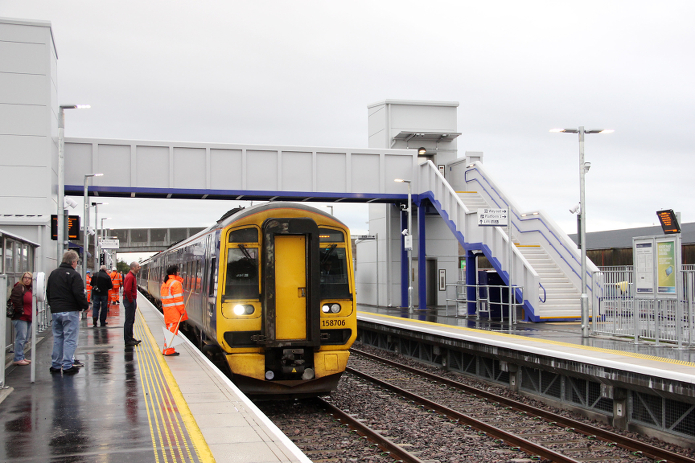 Phase 1 of the Aberdeen to Inverness improvement scheme (which aims eventually to give an hourly service end to end with a journey time of two hours) is also to include redoubling of the track from Aberdeen (sic) to Inverurie together with infrastructure to allow for new stations at Kintore and Inverness Airport (Dalcross). [Transport Scotland website 5 January]. This second part of Phase 1 was due to have started by now, but there is a worrying lack of up to date information at present. It is unfortunate that this initial work is now being described as the completion of Phase 1 which could lead to some confusion. Perhaps it should be called Phase 1A with the second part as 1B?
NEW FREIGHT FLOWS??
Sadly, the connection at Alves to the Burghead branch has now been severed which means that no rail freight traffic can now come directly out of the new Diageo whisky plant. More encouraging is the revelation in the Inverness Courier on 2 January that Norbord are talking to Network Rail about the rail freight option but the quotes from the timber industry and from Scottish Government Minister Fergus Ewing MSP, do not confirm that it will happen. It is understood that the new signalling module for the line at Inverness should facilitate the reinstatement of a siding at this location. It is a great pity the original siding was built over.
Possibilities for timber traffic and whisky related traffic from elsewhere on the line require further development work. A new opportunity is presented by the Co-op's decision to site its new distribution depot for the north at Inverness Airport Business Park.
Richard Ardern