Bookworm's Burrow
Yeadon's bookshop in Elgin has a better railway stock than Waterstones - which is all that is left in Inverness. On shelf recently was the following sequel (which has a chapter on the 10:38 from Inverness to the Furthest North interviewing such kenspeckle characters as Dr Stewart Campbell, Frank and Kate Roach and Mike Lunan):
On the Slow Train Again, by Michael Williams; published in London by Preface in 2011; ISBN 978 1 84809 285 3 (hardback); 218 pp., ill., maps.
There are known copies in Highland Libraries at Grantown, Inverness and Thurso.
The latest in a long line of railway books from member, David St John Thomas, has just been published. It is Railway Season, a series of essays based around the different seasons of the year and their characteristics, such as summer Saturdays, autumn fog, and Christmas. Many of the cameos draw examples from the West Country and from the Highlands of Scotland. Indeed, the chapter on snow features the nine-day-long blockage of the Far North Line in 1978, quoting extensively from the articles in FoFNL's Newsletters 43 and 44 .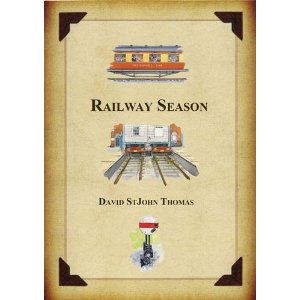 The book is a nicely balanced A5 hardback with attractive watercolours by David Charlesworth. Unusually, but intentionally, there are no photographs, so that the reader may concentrate on the text and enjoy a journey from the 1930s to the present, from South Molton to Nairn with many branches on the way. A novel concept embodying many different trains of thought. Step in to the now vanishing restaurant car and enjoy!
Railway Season, by David St John Thomas, is published by Frances Lincoln at £14.99. ISBN 978-0-7112-3259-4.