Book Review - Scottish Highland Railways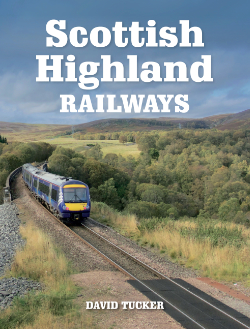 Scottish Highland Railways David Tucker. Crowood Press 2021
ISBN 978 1 78500 792 7. 160pp. £19.99
Scottish Highland Railways sets off with an ambitious aim, to cover the history, geography and present state of the railways north of the Central Belt. There is a varied selection of photographs from past and present; many of them illustrate more than just stations and trains, giving the reader a stronger impression of what the area covered actually looks like. The excellent opening section explains how the book covers Scottish Highland railways with abbreviations, terminology, history and geography.
However, a reader with prior knowledge of the subject will soon come across surprising 'facts' which will have them rapidly flicking through the other books on their shelves and consulting the internet for confirmation.
Many of the mistakes are slight, such as the author becoming confused about journey times on the Far North Line, "The journey totals three hours fifteen minutes from Inverness to Wick" - but later - "Just under three hours, thirty minutes since leaving Inverness, Far North trains pause for four minutes at Georgemas..."
Some of the errors are extraordinary, such as the statement that a dual rail/road bridge was considered for the Kessock Bridge design but was dismissed because of high winds and the prevailing ethos of 'car is king', whereas actually such a proposal would have had the railway somehow climb high enough on leaving Inverness to cross the Beauly Firth so that shipping could pass beneath, and then continue north with many miles of brand new railway on the Black Isle. We are also told in another chapter that, "Until 2018, passengers for Inverness had to change at Dyce, the suburban station that serves Aberdeen Airport, but the change of trains and the ten-minute wait have been eliminated, taking nearly half an hour off the original journey time, bringing it down to around two and a quarter hours." Indeed, during the blockade in 2018 while the line from Aberdeen as far as Dyce was being doubled, passengers did have to change at Dyce, but it was between the replacement bus service and the train!
Anyone tempted to purchase this book would be advised to wait for a second edition. We have already alerted the publisher to a few of the errors. I would far rather have been recommending this promising book, but I'm left with the impression that the author sometimes wrote from memory and simply didn't have time to complete his research.
Ian Budd