Book Review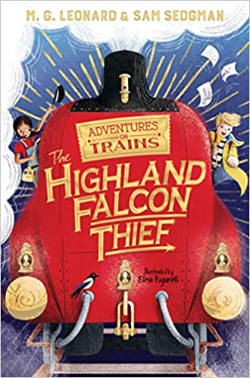 The Highland Falcon Thief
M G Leonard and Sam Sedgman
Pan Macmillan, 2020. £6.99 256pp
978 1 529 01306 1
This is an exciting book to give to, or read to, children or grandchildren aged between about 10 and 14. Older generations will also appreciate some of the railway detail.
Harrison Beck and his Uncle Nat are enjoying what is to be the very last journey of the Highland Falcon, Britain's most famous steam train, limited to around a dozen passengers including royalty.
Young Harrison and his new friend - stowaway Lenny, the engine driver's daughter, try to solve the mystery of the Princess' diamond necklace which has gone missing - they believe stolen by one of the passengers.
The train is hauled by the famous wedge shaped duck which holds the world record for steam traction and which is about to be retired into the National Railway Museum in York.
The train circumnavigates Britain from London Kings Cross along the East Coast Main Line through York, Edinburgh, Dundee, Aberdeen, then Inverness, Perth, Glasgow, Carlisle, Settle, Manchester, Shrewsbury, Swansea, Bristol, Swindon and Reading to London Paddington.
The authors admit to taking a few liberties such as sending the train up to Ballater to allow the Prince and Princess to join. It is the Royal Train after all and includes the Royal Carriage and the King Edward Saloon. Another liberty allows us a first class description of lowering the tender scoop on the miraculously reinstated water troughs on the ECML. Nostalgic!
Read on and enjoy!
Richard Ardern
This is the first of a series of six Adventures on Trains, featuring Hal and Uncle Nat solving mysteries on trains round the world.