The FNL and the Highland League
Football Supporter
The Scottish Highland Football League (SHFL) was born on 4th August 1893 in a smoke-filled room of The Workmens' Club in Inverness. The founder-members were all local town Clubs - Caledonian, Camerons, Citadel, Clachnacuddin, Thistle and Union - but when, within weeks, they were joined by Forres Mechanics and Ross County (Dingwall), the Highland Railway Company had a brand new set of customers. The teams which have competed in North football for the past 125 years have constantly changed. The initial Inverness power base weakened as the League embraced communities to the east. The one common thread between all the clubs is that their players, officials and supporters have used the trains to travel to and from matches.
The grounds of many clubs such as Peterhead, Fraserburgh, Rothes, and Nairn County were (or still are) a "stone's throw" from the local station. Indeed Nairn's ground is named Station Park. Of today's SHFL clubs all, with one exception (Formartine United in Pitmedden), have been or still are served by the railway. Junior clubs have also used the trains, indeed Inverurie Locomotive Works F.C. used their local railway connections to allow the early afternoon northbound train from Aberdeen to make an unscheduled Saturday stop for visiting teams to alight. Interestingly, this club, nicknamed "The Railwaymen", embraced the new-fangled charabanc as early as 1925 to travel to play Banff F.C.
The massive increase in private car ownership and the development of coach travel from the 1950s led to a reduction in football supporters using trains. The railway "special" has all but disappeared, although Inverness Thistle hired a special train to take 400 supporters to Ayr for a Scottish Cup tie as late as 1973. Incredibly and unthinkable today, the Glasgow Rangers Football Club players and officials travelled by train (first class) to Dingwall to play Ross County (then in the SHFL) in the same competition in January 1966. Today's players and officials travel exclusively by bus to and from games. Ross County aside, however, the Far North Line has not benefited to the same extent as, for example, the Inverness to Aberdeen line from the football supporter. This is because, until 1963, there was no representation in the SHFL north of Dingwall. In that year Brora Rangers were admitted, to be followed by Wick Academy in 1994.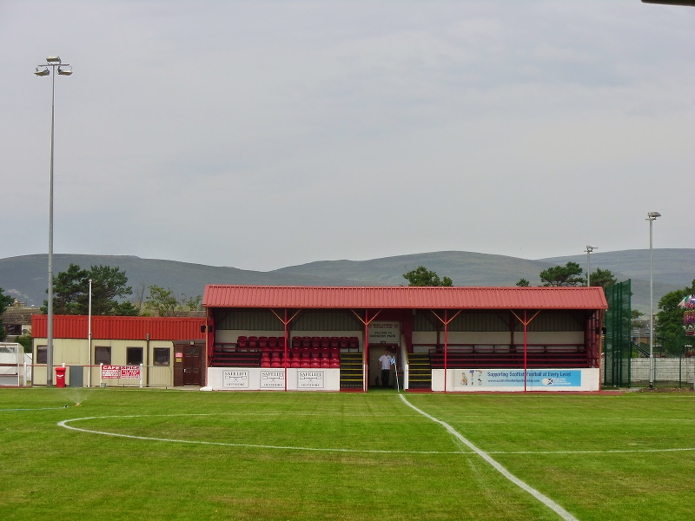 Photo: Chris Powell
Today's rail service fits rather neatly for Brora. The 10.41 ex Inverness dovetails with either the 07.15 or 08.19 ex Aberdeen and arrives in Brora at 12.57. This gives time for lunch and/or a couple of pints before the 15.00 kick-off at Dudgeon Park. The 18.00 return departure from Brora is perfect for another couple of pints or, indeed, to accommodate any extra-time and/or penalties in the event of a cup-tie. The only downside for those travelling back east from Inverness is the wait from 20.10 to 21.33 in the Highland Capital, although that does give time for a bite to eat or, yes, you've guessed it, another couple of pints. The accompanying mood to these refreshments is often tempered by the football result on the day! The length of the journey to Wick does not lend itself to rail travel (without an overnight stay) with the train arriving only four minutes before kick-off and departing at 16.00 (half-time). However, an overnight in Mackays is by no means an unpleasant experience, and there is plenty of time to enjoy a long, leisurely breakfast before catching the Sunday 11.58 south.
I am rather disinclined these days to risk the Far North Line, given the extremely poor publicity which it receives over reliability. I am afraid that its reputation goes before it and I have a morbid fear of being stuck at a remote railway station with no communication with the outside world. I have used Altnabreac regularly as a base for walking in the Flow Country. However, this football season, I hit upon a compromise whereby I combined car and train on two occasions. My better half is in love with shopping in Dornoch, which is a Saturday afternoon "fate worse than death" as far as I'm concerned, but she agreed to deposit me onto the train, drive to Dornoch, and then drive on to Brora to collect me after the game. This is what happened on both occasions and I have to report that, despite some positives, the experiences have done little to diminished the tarnished image of the Far North rail service in my mind.
On Saturday 19th August (2017), a sunny and warm summer day, I was deposited at Golspie to catch the 12.46 on to Brora. I was much encouraged to discover that I was joined by 31 fellow travellers on the platform and that the train was already very full on arrival. However, the downside was that the conductor had no chance of selling tickets, and with several folk boarding and alighting at both Dunrobin and Brora, fares went uncollected. At Brora the poor lassie, who was looking decidedly trauchled, prioritised getting the train, already 10 minutes behind schedule for the Forsinard crossing, moving on. This confirms my previous suspicion that the passenger loading figures for the Far North Line are seriously flawed (on previous journeys the former Club 55 tickets did not account for some of the more remote stations). For the record, several supporters of both teams (Brora Rangers and Inverurie Loco. Works F.C.) alighted, including the famous "Chuff-Chuffs" band of the Locos (who thankfully had refrained from striking up on the train).
My second experience took place on Saturday 27th January (2018). Most will immediately appreciate the contrast in weather between the two dates. I was dropped off on this occasion at Rogart, the request stop, and after buying my lunch at the very friendly local store, I headed along Platform 2 to the waiting room to await the 12.34 and to enjoy my refreshment. It was locked. I pondered whether to sample the draughty bus shelter on the opposite platform, but with no obvious means of safe crossing and the need to return over the line when my train approached, I decided to veer on the side of personal safety. As a strong squall hit the station from the west, I crouched behind the end of the station building. At this point, my paranoia about being stranded kicked in. I searched in vain for an indicator board and, on discovering that the public information telephone link was out of action, I telephoned the ScotRail Customer Relations number from my mobile. That was even more concerning as the girl at the other end (at least I got an answer) had never heard of Rogart or Brora and became confused as to which direction I and my train were travelling. I spelt out both station names several times and, eventually, she discovered the train had left "somewhere called Fearn" on time. I have to say that I was mightily relieved to hear the toot from the train as it approached Rogart, although I had previously taken the precaution of checking the mobile of herself in Dornoch was both working and switched on - just in case!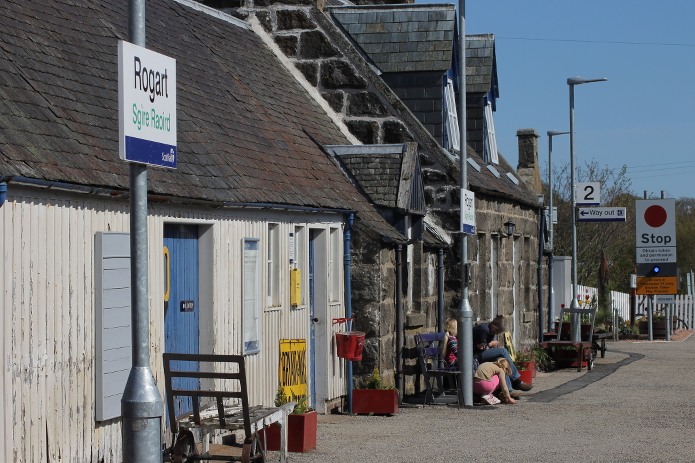 Photo: David Fasken
The train was bang on time, warm and welcoming, and indeed arrived three minutes early into Golspie. The conductor was pleasant but, after fiddling with her technology for several minutes, she announced that her ticket machine had broken down and "I'm afraid you'll just have to go free". What happened to a back-up manual fare schedule and old-fashioned mental arithmetic? I was astonished - more money lost and another statistic that never was! There were 16 people on the train (two off, one on at Golspie) and 12 Brora Rangers and one Inverurie Locos supporter (me) got off at Brora. Three passengers remained on the train to travel further north. This means that, between Rogart and Brora at least, 81.25% of passengers were supporters of the SHFL. At least I think they were, but some may have been somewhat disorientated by the train's internal electric indicator which was announcing "The train is now approaching Lairg" as we entered Brora. Perhaps some were looking to buy sheep?
While the train was on time, indeed running ahead of itself, the negative aspects do little to dissuade travellers of the notion that this is a line in serious decline, a line uncared for, and a line where little thought is given to supporting aspects of the journey, let alone the passenger. The Rogart wait was a particularly miserable one. I felt quite deflated and depressed and it has done little to encourage me to repeat the experience. I have to temper this final comment, in fairness, by what happened at the match. It was abandoned after four minutes at 0-0 due to the high winds and I had to wait 30 minutes to be rescued from Dornoch. As for the Brora lads, they only had just under three hours to wait in the Sutherland Arms for the return train! I hope it ran on time!!
Editor's Note: The FNL has been far more reliable in 2018, with punctuality as good as the rest of the network.
The front cover of David Fasken's recent book (2015)
on Inverurie Locomotive Works Football Club.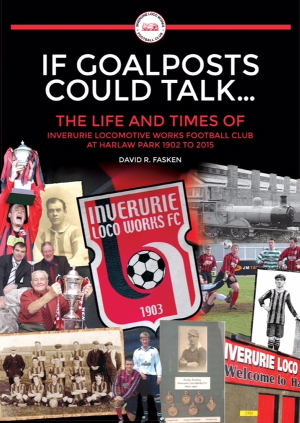 As well as charting the social history of one of Scotland's lesser known teams through 99 years of Junior football and the transition to Senior level within the Scottish Highland Football League in 2001, the book relates the establishment of the Works in Inverurie between 1898 and 1905 and its demise in 1969.
Even in Junior days Inverurie Locos played regularly against Highland League clubs such as Peterhead, Fraserburgh, Elgin City, Buckie Thistle and Ross County. The Club supplied many players to Highland League clubs down the years. On Saturday 3rd August 1968 Locos lost 4-3 to Brora Rangers in a pre-season friendly at Dudgeon Park, although the mode of travel to that match is not recorded.
However, as far back as Monday 26th July 1954 a party of 17 Inverurie Loco. Works F.C. officials and players travelled from Inverurie to Thurso by train to catch the MV St. Ola to Orkney and, incredibly, on that same evening they faced an Orkney Select at Bignold Park in Kirkwall. Perhaps not surprisingly, Locos lost 6-4 in an ill-tempered match, but the two teams drew a second game 3-3 the following night, before Locos caught the MV St. Ninian to play matches in Shetland. The Inverurie Locos centre-forward on that trip was Norman Davidson, who signed for Aberdeen the following year and went on to score the winning goal for Hearts against Kilmarnock in the 1962 Scottish League Cup Final.