Bridge Strike Driver Fined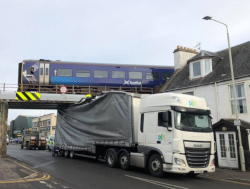 In the January issue of FNE we ran an article about bridge strikes. We included a picture of a lorry stuck under the bridge in Shore Street, Inverness which happened on 31 October last year. Although the railway remained open there was disruption on road and rail for over two hours while the lorry was extracted and the bridge checked.
The sixty-year-old lorry driver was subsequently fined £400 and received three penalty points for careless driving. He had an unblemished driving record so it is hard to understand what happened. He said he was aware of the bridge but misjudged the height of his load. This begs the question of how the height of his load was a matter of judgment rather than knowledge.
Presumably Network Rail will try and recover the cost of the delays and inspection work from the lorry's owning company.