Rail Freight - Planning Ahead
David Spaven, Scottish Representative, Rail Freight Group, writing in The Scotsman 2nd June 2016
As the representative body for users and suppliers of rail freight throughout Britain, the Rail Freight Group (RFG) was pleased to have the opportunity to comment on Network Rail's (NR) recent draft Scotland Route Study, setting out the options for upgrading the network over the next 25 and more years.
The capacity and capability of the network will be key determinants of rail freight's success in contributing to important policy objectives, such as: supporting economic growth and resilience, and greater choice for industry; meeting Scotland's challenging climate change targets; and reducing the heavy trunk road maintenance burden imposed by the biggest lorries.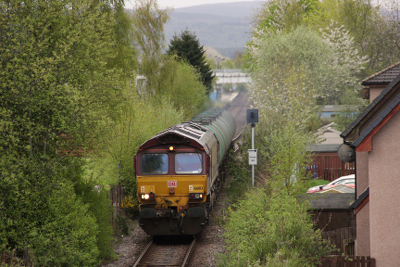 Scotland's economy has distinctive characteristics, not least being more export-led than England's, and it is vital that freight demand forecasts for the rail network should reflect such differences. The planned re-organisation of NR across Britain to focus on revised regions should not lose sight of the critical importance of facilitating the cross-regional pattern of key Anglo-Scottish freight flows, such as the movement of Deep Sea containers on intermodal trains from Coatbridge Freightliner Terminal to major ports such as Felixstowe, Liverpool, and Tilbury.
Rail also has an important role to play for shorter-distance movements. Currently there are a number of significant freight flows wholly within Scotland, such as: cement from Dunbar to Aberdeen, Inverness and Uddingston; intermodal (primarily supermarket) traffic from Grangemouth/Mossend to Aberdeen/Inverness; oil from Grangemouth to Fort William, Lairg, Kilmarnock and Prestwick and waste from Edinburgh to Dunbar.
If rail freight in Scotland is to fully realise its potential, a big opportunity is in the timber market, and rail potential is likely to be concentrated on rural routes such as the North Highland and West Highland lines, and the Ayr-Stranraer line. In making assumptions about future demand for freight "paths", Network Rail needs to factor in such specifics. An important opportunity for rail lies in the movement of spirits from north of Scotland distilleries to Central Scotland maturation plants. Any significant rail penetration of this market will have a disproportionate impact on the Aberdeen-Inverness, Aberdeen-Central Scotland and Inverness-Central Scotland routes.
The needs of new and existing rail customers relate not just to price and service, but also to the ability to accommodate loads which road haulage can handle routinely, but which may face constraints on the rail network.
Key gaps in the electrified network need to be infilled as soon as possible, in order to optimise rail's day-to-day offer to the market, and also to provide resilience in the face of extreme weather events which will inevitably disrupt the East Coast Main Line and West Coast Main Line in the future. In that regard, electrification of the Edinburgh South Suburban Line - avoiding the busy Haymarket and Waverley stations - should be regarded as a high priority. There are plenty of other areas where Network Rail - with funding from Scottish Government - can support an expanding role for rail freight. Crucially, it needs to provide robust assurance to key stakeholders that the primary passenger aim of the new ScotRail Alliance (with Network Rail) will not lead to a marginalisation of the needs of rail freight.