A Railman Remembers, Part 4
The Summer of Our Content
Continuing Mark Nolan's reminiscences of his time working at Fearn station
As winter made way for spring and the paranoia of the petrol shortages and the three day week receded, life at Fearn took on a bucolic quality for the idle railman.
Dick would roll in on Friday afternoons to make up the clerical returns from my meagre accounts. I didn't sell a lot of tickets as only a few passengers could make use of the infrequent services. The 9am southbound was the most likely to be used for a day trip to Inverness. I made myself quite popular by letting everyone wait in the ticket office, it being the only warm place on the station.
Other passengers were a bit more demanding. "I'd like a return to Westerham but coming back via Aberdeen with an extra half fare and accompanied luggage on the final leg. Oh and..." "Let me stop you there. Even if I knew where Westerham was, and could find the correct add-on in the supplementary fares manual, the train will have come and gone before I've worked it out, probably incorrectly. Here's a ticket to Inverness, they'll sort you out there."
As the station was surrounded by fields, most of the few travellers needed to arrive or depart by car. Unwary Nigg workers would stagger off the morning train, having sat up drinking all night from Glasgow, saying "Hey Pal, where's the phone box?" Depending on my mood and their politeness, I would say "There isn't one" and shut the hatch. Eventually I would take pity on them and phone Nigg 666 to let them know there were a few bears at the station and maybe someone should come and pick them up. "Why's the station so far from the village?" was a familiar cry. It wasn't until years later I learned the appropriate response; "They were planning to put the station in the village, but in the end they decided it would be more useful next to the railway."
Of course as far as the public was concerned, I was the Station Master, even though I didn't wear a uniform. Due to my rebellious streak I never even filled in the form which asked for my fitting sizes, so the uniform duly never arrived.
What did arrive in due course was a caravan. My no-fixed-abode status had not gone unnoticed. In any longer term I needed somewhere to live, but the accommodation above the station had already been rented out to a tenant. "How about a caravan?" said Dick. "I'll ask the Area Manager if you can put one on the platform". Much to my surprise, the answer was yes. A friend knew about a caravan which had been used as a site office by a scaffolding contractor, which I bought for £50. It was in reasonable condition and watertight, but completely stripped of fittings. That wasn't too much of a problem as the station had a loo and a rudimentary kitchen. In time honoured hippy tradition I cut up a couple of pallets for a bed base and threw a mattress on top. The caravan was tucked in to a plot of land on the platform between the station building and the road bridge, and I took up full time residence at Fearn.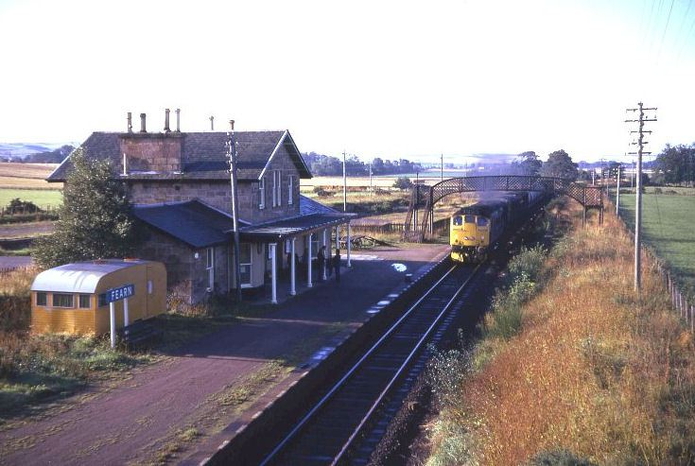 The platform was, and still is, very low, so there were some wooden steps which could be placed at the train doors to assist passengers on or off. One day the early train pulled out and there was a cup of tea on the step.
Originally I had been travelling in to Fearn on the early train and back to Invergordon or Dingwall at 3.30 in the afternoon. Alec, the buffet car attendant on those services, was a similar age to me, friendly, cheerful and as delighted with his job as I was with mine. And bless him, every time he came through Fearn he left a cup of tea for me on the platform, much to the shaking of the guard's head and anyone else who saw it.
I had to come up with some sort of response. I worked out that one thing Alec couldn't do in the buffet car was fry bacon. This led to feverish preparation and a miracle of timing. By pre-heating the frying pan, lining everything up and listening for the train whistle at Nigg Station crossing, I was able to hit Alec with a hot bacon and egg toasted sandwich just as the train arrived. This signalled the end of the Fearn master chef catering competition, but the morning tea continued to be a much appreciated perk until the end of my time at Fearn.
Having carte blanche to ride any train north of Inverness was another great benefit for me, although for some reason I never took advantage of it to go much further north. I was also allowed quarter fare travel across the rest of the British Rail network, as well as four free return tickets a year. I took full advantage of these, but there was a problem; I couldn't leave before Friday afternoon, and I had to be back by Monday morning. The only way I could exploit all my free travel was by catching the overnight train south on Friday, and the Glasgow-Inverness sleeper back on Sunday night. I never failed to be back at my station by Monday morning, but there was to be another unexpected development which would restrict my travel opportunities even more than geography; it came in the form of a musical postman.