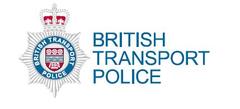 "Lightning Never Strikes Twice... or does it?"
By Inspector Bob Cameron
First of all allow me to apologise profusely for the lack of BTP input to the last newsletter. Unfortunately, a fire at the EWS buildings in Inverness, a freight derailment at Carrbridge and a crossing collision at Hoy somewhat put a block on my ability to get a piece into the newsletter on time.
Since my last article, Constable Kevin Lawrence has successfully completed his promotion board and has now been appointed Sergeant at Inverness. I wish to warmly congratulate Kevin on his appointment and wish him every success for the managerial adventures which are about to come his way!
Level crossings and freak weather seem to have been a recurring theme for the past couple of months in the Highlands. Following the tragic events at Halkirk in September 2009, it almost seems almost unbelievable and totally incredulous that only three months later there would be another collision between a van and train a short distance away at Hoy. Mercifully, no-one was killed or seriously injured, and whilst the laws of sub-judice prevent me from discussing the case in detail, what I can say is that a local van driver was charged with dangerous driving and will stand trial at Wick Sheriff Court on 26th May 2010.
Level crossings also feature prominently in the BTP Policing Plan for 2010-11. My own challenge is to forge a multi agency partnership, and create "a safe environment" at Garve and Halkirk level crossings (more about that in the next newsletter), however one tremendous tool which we are about to launch at Inverness is an unmarked van complete with state of the art mobile video recording. The equipment, will allow my officers and Camera Enforcement staff to locate this van at any level crossing in the Highlands and obtain crystal clear video footage of those who choose to break the law. We will also be deploying Automatic Number Plate Recognition (ANPR), giving us the capability to obtain vehicle owner data from every vehicle which uses the crossing. Although the latter sounds a bit "Big Brother", the purpose of ANPR is less sinister that it seems and it will allow us to accurately gather information about where crossing users live and allow us to leaflet drop areas in which people actually use the crossing. Freak weather, although not affecting the far north railway per se brought disruption to the Inverness - Aviemore stretch of the line after a freight train derailed outside Carrbridge at the beginning of January. The resulting investigation by BTP and RAIB was carried out in utterly appalling weather conditions, and led to all BTP officers in the north of Scotland being issued with winter survival kit.
And... just as we were about to put the winter kit into storage for another year, Carrbridge featured on the weather map once again at the end of March when not one, but two trains became stranded in a five foot snowdrift requiring the rescue of over 150 passengers. Whilst happy to tell you all about this incident, I have a feeling that a certain FoFNL member (who happened to be a passenger on the train) has told you chapter and verse about it already!
So as my title suggests, two level crossing incidents (almost) at the same location and two weather related incidents at the same location. Who says lightning never strikes twice?