Forsinard - Lonely Yet Fascinating Outpost
My joining the FOFNL in 2009, and reading about its interesting activities, were the key drivers that motivated me to plan a re-visit to the Far North in December 2009. This, coupled with my sudden realisation that I had not been north of Dingwall for 25 years, made the planning of a flying visit to those parts a "dead cert".
But where should I head for? Wick or Thurso (or both) again? Or something a little more adventurous that would, at the same time, result in my being able to traverse a respectable distance north that would, in turn, afford me an adequate 21st century sample of the line.
Pondering over a map and carrying out a little internet research, I decided to head for the desolate hamlet of Forsinard, 125 miles north of Inverness. Having only ever passed through there before - and often in darkness - I was not really what you might call familiar with the place.
It seemed that I had two quality forms of accommodation from which to choose: the Forsinard Hotel, that appears huge given the size of the hamlet in which it sits; and the modest two-bedroomed Station Cottage Guest House, with an equally sound reputation for high quality accommodation and food. Both were only a couple of minutes walk from the station which, given my disabilities, was a big plus.
A throw of the dice and a severely capped budget determined my Station Cottage preference and booking at that time.
On arrival at Inverness off the previous night's Caledonian Sleeper from Euston, with a charisma-free Class 67 at its head, I had time to take breakfast at the now seemingly Polish-run Highland Hotel, sited almost on the station itself of course, before heading even further north on the 10.38 departure.
Full of quality Scottish breakfast, my companion and I eventually made our way to the DMU for Wick, formed of the now ubiquitous Class 158. Twenty-five years ago, I would have been greeted by the warmer sight of a waiting Class 37 with at least a couple of well heated Mk1 or Mk2 Vac or A/B/C vehicles in tow for the marathon run to Sutherland and Caithness. A proper train indeed, but a type that doesn't fit in with the profit & loss spreadsheet across the "privatised" railway industry; but I digress. (N.B. For the memories of those reading this who are at least as old as I am, in the winter of 1977 I was in fact greeted with the even warmer sight of 26019 belching steam for its four Mk1 vehicles for the wonderfully impetuous jaunt upwards).
However, we were stuck with this more operating-efficient mode of traction so we made the best of what I considered to be a bad job train-wise by travelling in de-classified "1st Class" (almost identical to Standard Class to my eye).
So, on this cold first day in December, we soon set off out of the Highland Capital with a few other hardy passengers, a very pleasant conductor and an equally pleasant refreshments trolley lady.
It soon became clear to us that what at first seemed to be our driver's shear keenness to get along was clearly only his attempts to adhere to the WTT. After the clunk-clunk of Clachnaharry, we were galloping along at speeds I never thought achievable down this road, made even more exiting by the sound of riding over jointed track that often appeared to be laid at random lengths - even on some straight sections!
Pretty Dingwall came and went; and onwards we flew at what seemed more like 170 mph than the alleged 70 maximum. Who says this line is not as beautiful as that to the Kyle? Yes, there are indeed what would seem to us inexperienced southerners as miles and miles of s*d all; but it was as if each yard and chain rendered its own mystery and fascination to the eager traveller.
I was impressed to witness first hand some of the enhancements to The Far North Line that I have read about in this very journal since becoming a FOFNL member: the Invernet and other operational improvements to mention just two. And the business plan and growth forecasts for such enhancements were clearly accurate, given the foot-fall returns for the extra trains and the passenger receipts for the line.
But one can also see first-hand the restraints of the Train Planner with having so many miles of long single sections to contend with. Even so, this relatively green mode of travel seems to be proving popular with the locals along this hitherto little used route. All good stuff as well, particularly if you live in Inverness or Dingwall and have friends or family in such places as Ardgay or Tain.
Our Inter-City like journey on our suburban-like train was soon drawing to a close as we sprinted across the awesome Flow Country and into the RETB out-post and passing loop of Forsinard, with its short and solitary manually-operated siding on the Down side at the south end of the station.
Help was at hand for us two rather frail passengers onto the low platform there - both in the form of bright yellow steps and from the on-board (and very considerate) staff. Scotland may have lost its proper trains but it certainly doesn't appear to have lost its high customer service standards.
With a friendly wave from the driver, the two car DMU throttled full power towards the chiefly 1 in 60 ascent towards the challenging County March Summit and on into the bleak but gorgeous lands of Caithness. A quick glance of the old watch confirmed we were at Forsinard bang on time, and not 25 minutes early as the lively ride seemed to impress upon us.
The boarded up Signal Box (presumably HR in origin) was a stark reminder of operating practices that once were here. And we were booked in at the Station Cottage where the very signalmen who once worked here probably lived all those years ago.
As the moan of the Class 158's engines and its clickety-clack faded to nothing, only a steel breeze, a stream and some unfamiliar birdsong was to be heard. It was VERY quiet up here! A slow walk back along the platform was required to get to the station's entrance / exit that is situated close to the wonderfully preserved station buildings that now houses RSPB Forsinard's Visitor Centre facilities.
Outside in the station yard, well - there's not much to report really. A Telephone Box that only takes phone-cards; and not much else. Over our shoulder the splendour of the massive Forsinard Hotel; over the level crossing and a few yards beyond, before a Cattle Grid, the wonderfully renovated Station Cottage, where a warm welcome and a cup of tea greeted us.
With daylight hours at this latitude being somewhat of a premium at this time of year, we decided to dump our modest baggage and have a slow stroll around the immediate area. Given my infirmness, I could only look in anticipation at the nearby start of the famous mile long Dubh Lochan trail, with its flagstones that take the explorer across the fragile Peatlands of this part of the Flow Country and amongst the unique wildlife and vegetation peculiar to these rare conditions.
Back at the level crossing, we were in time to see the pausing of a track recording device in the Up platform on its way back south, presumably awaiting its RETB token to proceed, which it did without much hesitation.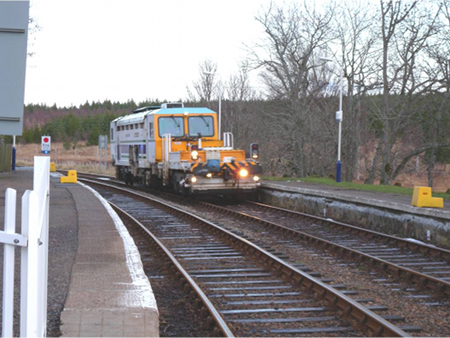 Other than a couple more passenger trains that would pass each other at the station later that day, that would be pretty much it in terms of railway movements, until our 09.15 departure in the morning, the second Up train there.
So, walking past some pre-fab type buildings opposite the station entrance, that also appeared to be part of the RSPB concern, we eventually came to the hotel and its many rare and beckoning malt whisky bottles behind its plush bar.
Idle chat with the two hardy but very welcoming hoteliers about the size of Forsinard and what happened there resulted in their quick calculation of the likely current population of this altogether amazing hamlet: 14, it seems, is the likely accurate census of the place for December, in terms of permanent residents living within the somewhat disputable and far-reaching boundaries that form the definition of "Forsinard".
It was a very quiet night at the Station Cottage guest house. Deafeningly quiet in fact. By the time the last train had gone, the only significant noise that dare penetrate this otherwise vast inhospitable wilderness was a tractor or two, in between the very sudden roar of a brace of Tornado fighter aircraft on low-level fast flight travel across the blackness of night-time Sutherland.
After a hearty breakfast that is, apparently "somewhat of a legend in these parts" (I'm not surprised with fantastic freshly-laid eggs like that), we had to make our way at 09.00 - still in a sort of half-light - back to the station. 09.15 came and went. The train did not. The lonely waiting room, with its heavy green painted door, was lit and open. But soon, amidst the still of the Inverness-bound platform, broken only by the babbling of a trickling nearby stream and some sweet bird-call, came a more urgent sound; that of the 08.12 from Wick - already the second Up train of the day - galloping along the cold jointed track towards us with much haste.
Given my infirm gait, I was keen not to delay the train further, so we boarded as quickly as I was able to when it finally drew to a stand in the platform, with the help of staff and those familiar heavy yellow steps. Following the heavy clunk of the automatic doors we were on our way. Different crew, but just as keen and helpful.
Unlike the wonderful days of very civilised rail travel, no Restaurant Car would be attached at The Mound to satisfy the whims of those wishing to dine amidst such scenery. We had to make do with the coffee trolley again; but, having had such an amazingly fresh and hearty Scottish breakfast, that would keep us going all the way to Gatwick Airport, a Restaurant Car was hardly necessary to us on this occasion, even if it could have physically been attached to our cocooned blue & white DMU.
Again we raced along at break-neck speed, rounding some of the tight radius curves at a previously unimaginable pace. Encouragingly, by the time we left Dingwall, the train was practically full. And we were into Inverness only three minutes down!
So, thank you Forsinard, ScotRail, the FOFNL and many others for all your combined efforts that culminated in such a joyous personal experience of Highland travel again - and in such an environmentally pre-eminent area of Scotland.