Steaming to Dunrobin and Wick
LMS Black Five no 44871 hauled 7 coaches from Inverness to Dunrobin on Monday 12 May this year. Single line capacity limits led to an extended stop at Tain at 10:46 to cross the 08:12 from Wick to Inverness, with the train then being shunted out of the north end and back in to the up platform to allow the 10:37 from Inverness to Wick to overtake, whereupon it was shunted southwards and back in to the down platform for our departure northwards at 12:03 once the service train had cleared the section to Ardgay. Passengers thus had plenty of time to stretch their legs in the sunshine and Iain MacDonald did a great job handing out FoFNL membership leaflets. Some passengers even joined at Tain as the train had been advertised locally.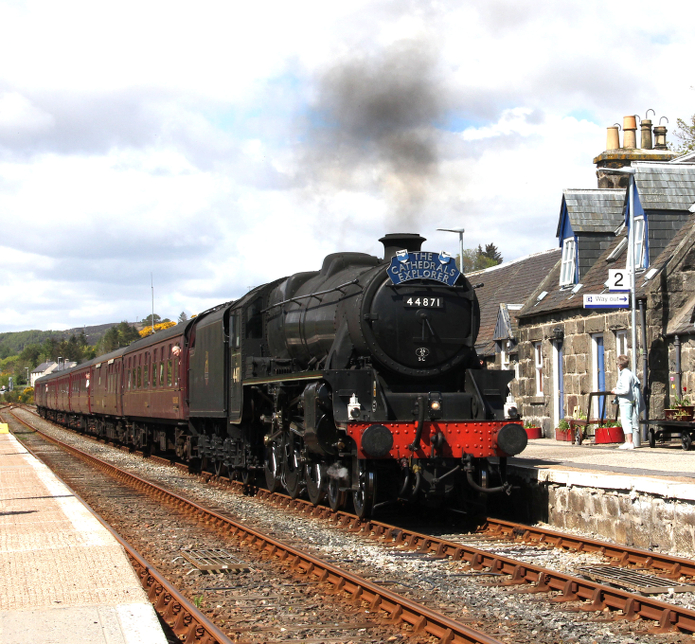 Sandy Colley
The locomotive made a very creditable ascent of the 1 in 70 bank from Invershin towards Lairg and on to Dunrobin for 13:35 where FoFNL member, Daniel Brittain- Catlin, who leases the picturesque mock half-timbered 1902 station, had organised many special activities. There were stalls of railway memorabilia, tours of the station and the station museum, and viewing of the narrow gauge locomotive "Brora". It was all very pleasant in the sunshine. The train had gone on to Brora so that the locomotive could run round and came back for us to reboard via the two sets of steps, three steps high because of the very low platform.
We departed tender first on time at 15:25 but were held for 25 minutes in the loop at Rogart because the northbound 14:00 from Inverness to Wick was 8 minutes late. The 7 mile 1 in 80 climb to Lairg summit took us 17 minutes 45 seconds and after stopping for water at Tain we arrived at Invergordon 9 minutes early. Yet again the northbound service train was late, by a full 15 minutes. We had regained this by Inverness, but the plan was changed and, instead of going straight in to platform 6, we took the Rose Street curve and, in time honoured tradition, the locomotive propelled the train backwards in to platform 2 arriving five minutes late at 19:19.
Next year, it is proposed that the Great Britain land cruise from London will go to Wick with steam haulage on Monday 4 May probably with LNER locomotives 61994 and 61264. Details of The Great Britain VIII steam railtour which will run from 26th April to 6th May are available online at http://www.railwaytouring.net/train-tours/great-britain-viii