James Kennedy Highland Railway Models
Recently the Friends collaborated with the Maryburgh Amenities Association, who staged a Heritage Exhibition, by making available a selection of Highland Railway models from the James Kennedy collection.
Whilst Maryburgh isn't usually considered as part of the railway map, not having had its own station, the line and its associated structures, such as the magnificent bridge over the River Conon, meant that the line played its part in Maryburgh's geographical development.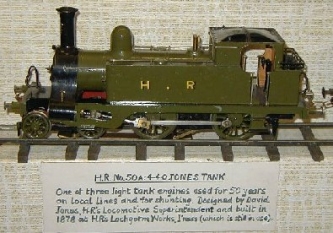 The models were built to the scale 10mm/1ft (gauge 1) and are considered to be a first class representation of the Highland Railway in the late Victorian and Edwardian era. Only a small part of the collection was able to be retained in the Inverness area by the fund raising efforts in July 1985 of our Vice President, Frank Spaven and Dr. Tom Coombs, Nairn.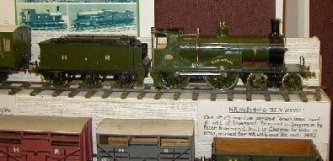 Ideally these models should be on permanent display in or near Inverness which would illustrate, with the help of other railway artefacts, the railway heritage of the Highlands - any suggestions or offers?