Inverness-Aberdeen Improvements
One hundred miles to go: the long journey to modernisation.
Following completion of loop and station works at Forres and Elgin, signalling between Inverness and Keith is now all controlled from Inverness. Work on the rest of phase 1 of the comprehensive upgrade is now under way at the Aberdeen end of the line.
The timetable has not yet changed. The 09.00 from Inverness now commonly waits for 13 minutes at Elgin and another scheduled 7 minutes at Insch to pass trains going the other way. You might think it could be accelerated by 20 minutes to give an Inverness to Aberdeen journey time of 2 hours 5 minutes, but it doesn't work like that because there are still so many long stretches of single track and trains have to be dovetailed to cross at the infrequent loops. This is why a comprehensive upgrade to increase double track sections is so vital.
The new website for the line tells us NR is now concentrating on major engineering works to redouble the track between Aberdeen and Inverurie alongside signalling and infrastructure works along the route. These will enable "increased reliability with no detriment to journey time between Inverness and Aberdeen (even allowing for new station stops at Kintore and Inverness Airport)" and an hourly service between Inverness and Elgin with 1300 additional seats daily amongst the benefits. Installation of a new second track and signalling equipment between Aberdeen and Dyce is due by August 2018 and similarly between Dyce and Inverurie by August 2019. By 2019 the majority of trains between Inverness and Aberdeen will be provided by High Speed Trains with 1400 extra seats daily. Hopefully this will allow the new increased frequency timetable to be introduced in December 2019.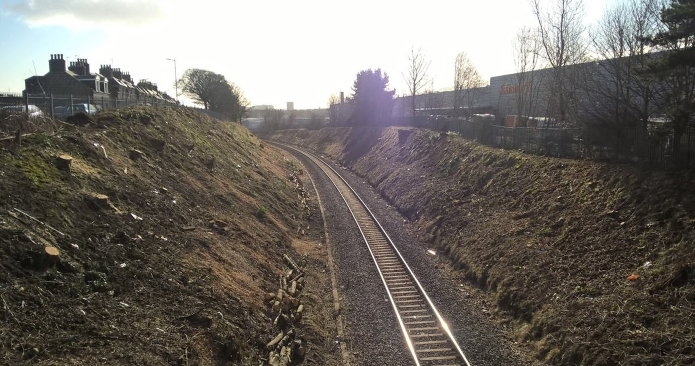 Photo: Network Rail
The redoubling work requires total closure of the line between Aberdeen and Dyce from 12 May to 20 August 2018 and a similar closure to Inverurie between May and August 2019. Rail replacement bus services will be provided for the affected lengths. Seemingly, the redoubling work will now start from Kittybrewster rather than from the northern end of the Hutcheon Street tunnel and it is also suggested that the 2018 blockade may not be quite long enough to allow for commissioning of the new track to Dyce until 2019. Railway construction is also not an exact science, just as we have seen with road construction on the Aberdeen bypass.
Transport Scotland has taken over from HITRANS as client for the construction of the new station at Inverness Airport (Dalcross) and says the work will be conducted in parallel with capacity studies between Inverness and Nairn. When First Minister, Alex Salmond, announced the package of line improvements in Inverness in March 2014, which were then published on the Transport Scotland website in August 2014, it was stated that "Further development work will take place on the optimisation of the loop/double track strategy at Nairn/Dalcross". At the time that was thought to mean the work was sufficiently imminent to be finalised in time to be included in the CP5 2014/19 package.
Sadly this did not happen and we still seem to be in the position of no decision yet. Passengers have had to suffer the inconveniences of scheduled passing delays of up to 13 minutes at Nairn because there is still no passing place/double track for 15 miles between there and Inverness. The line used to be doubled from Inverness as far as the former Dalcross station at Woodend which was only half a mile short of the new site. Robust operation of the line would be greatly improved by double track to allow trains from Inverness to start out on time without having to wait for a late runner coming in from Nairn.
Those procuring the A96 bridge which replaced the Gollanfield level crossing in the early 1970s sadly did not have the foresight to make the bridge wide enough for a double track railway. The same is true of the more recent engineering of the Raigmore A9/A96 interchange just east of Inverness. It is wider, but probably just not quite wide enough. As it was over a formerly double track line, there is less excuse. These constraints must not make it impossible to lay a meaningful length of double track between Inverness and Nairn to cope better with the increasing number of services.
There is a long way yet to go to fully modernise this line. The remaining assets must be retained: goods yards at Huntly and Keith and the headshunt width at the north end of Aberdeen station. Too much development has been allowed to encroach upon the boundaries of the railway, not least at Inverness. Passenger and freight use of the railways should be permitted to continue to increase as congestion and pollution from other modes continue to cause concern. This strategic line across the north of Scotland should have a bright future after years of relative neglect and lack of nurture. Investment is imperative.
Richard Ardern