Book Review
Disconnected! Broken links in Britain's rail policy
By Chris Austin and Richard Faulkner. Oxford Publishing Company, 2015. 160 pp hardback. ISBN 978-0-86093-664-0. £25. Printed in Bulgaria!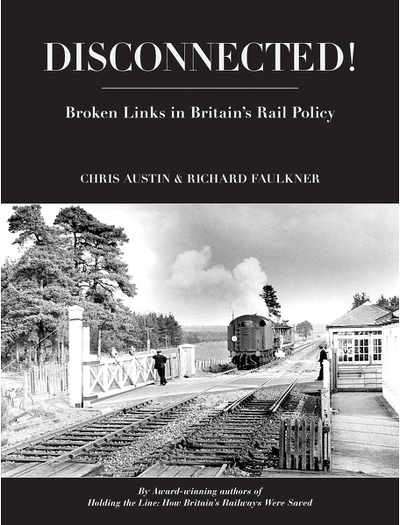 This book is a sequel to the same authors' outstanding 2012 book Holding the Line: how Britain's railways were saved which we reviewed in issue 59 (April 2013). The two are essential reading for those who wish to understand how we ended up with the network we have today and why there is no longer a railway to the Borough (sic) of St Andrews.
The story concludes with the authors' assessment of which lines would be most valuable today and are capable of reinstatement - some 530 miles or an additional 5% on today. The Waverley line from Galashiels to Carlisle is in this category but surprisingly not the direct Edinburgh to Perth via Kinross route (which, as they say, would be so valuable as the quickest route to the Highlands), nor the Strathmore Route through Forfar to provide an alternative route to Aberdeen. [The Dock Street, Dundee total blockage happened after the book had been written, but the authors were certainly provided beforehand with Transform Scotland's Inter-City Express proposals for the Kinross route]. Happily, the St Andrews and Leven branches are on their list but Aberdeen to Fraserburgh is seen as "more difficult or impractical".
Particularly interesting is the leaking of the story of how civil servants were secretly trying to produce a case to drastically shrink the railway network against the spirit of Barbara Castle's pro-rail policies in 1970. Perth to Inverness and Aberdeen to Inverness were slated for closure. The lessons of history show that it is impossible to forecast the long-term future with any degree of accuracy and that options (track beds) should be kept open. Today, railways are seen as part of the solution to the intractable problems of road congestion, airport capacity, pollution and economic development. There has been a seismic shift in thinking since the Beeching era and the authors opine that more damage was done by the 1965 Trunk Routes report than by the Reshaping report of 1963..
Richard Ardern