Far North Main Line Electrification
The Scottish Government has aspirations to complete the electrification of most railways in Scotland by 2030. This article uses the East Coast line as a template to see what we might expect when the wires extend to the wind, wave and tidal energy hub of Caithness (...or not).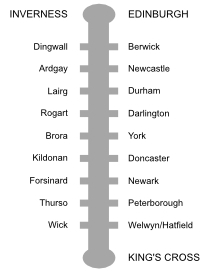 Two trains in the current timetable are compared. The 07:02 from Inverness to Wick with the 06:55 Edinburgh to London Kings Cross. The mileages suggest that Wick could be reached direct in just 2 hours 2 minutes from Inverness with commensurate track improvements and electrification.
If there were also a Selby Coalfield style track diversion via Dornoch (perhaps paid for not by the National Coal Board, but by the Nuclear Decommissioning Authority) this could be reduced to 1 hour 43 minutes!
The diagram and table show that passengers leaving Edinburgh at roughly the same time can be at York in the time it takes the 07:02 to reach Brora from Inverness and a passenger alighting at Thurso could have been as far south as Peterborough.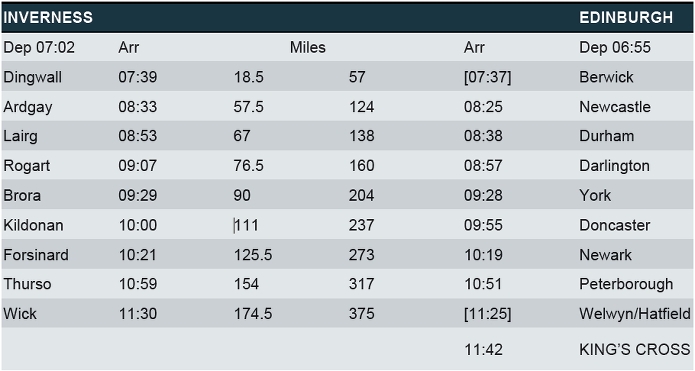 I was really warming to my thesis of the prospect of significantly faster trains to all stations along the route between Inverness and Caithness when somebody spoilt it by whispering to me that the trains on the FNL have just got even slower. Eh? How could this be in modern energy-rich Scotland?