Freight on The Far North Line
The first freight train on the Far North Line for many years ran on 29 September 1995 when Transrail operated a train with 100 tonnes of steel for Norfrost and 230 tonnes of coal. By the end of December '95 Transrail had moved several thousand tonnes of freight to and from the far north. Goods carried included coal, flagstones, marble, steel scrap, freezers, bridge sections, pipes and timber, most by the Enterprise Service.
Lime traffic from Thrislington to Fearn was due to start in May '96 and by June Pat Grant of Norfrost, which makes around 50% of Britain's freezers, was calling for a more regular train service. August brought word of a small freight terminal at Georgemas Junction for Norfrost and other customers plus pipes for the offshore and gas industry. The first train of pipes was on the 21st August when a train of 11 wagons and 12 spacer wagons arrived with 33 large pipes each 27.6 metres long.
On 29 January '97 freight returned to Kyle when 400 tonnes of timber in 18 OTA wagons were moved to Workington as a trial and was followed by a train of 15 OTA wagons on 17 and 24 March. Also 250 tonnes of flagstone was transported from Georgemas to Kyle for maintenance of the pier along with 4 vans of fish food. Another traffic was the movement of aviation fuel for Wick airport in tank containers to Georgemas. In August another trial run for timber was loaded at Dunrobin with the train standing on the mainline after the last passenger train passed.
In March '98 EWS opened a train crew depot at Inverness. The drivers operate the north services as well as the southbound to Mossend. In May '98 another freight train visited Kyle, this time with bagged coal to be shipped to the Outer Hebrides. The pipe trains to Georgemas restarted on 31 July with 2 train loads a week until February '99. Agricultural lime, a seasonal traffic flow, started on 16 October comprising a 12 wagon load with another 2 trains to follow and pipes were also due to start on 19 October both to Fearn. On 12 December 8 containers were transported to Kyle on megafret wagons for Highland Haulage.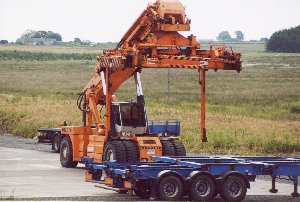 In early March '99 400 tonnes of flagstones were due to be moved from Georgemas to Tyne Yard followed by a move of fertiliser from Warrington to Thurso. Fish food from Trowe near Preston was moved to Inverness and thence by road to Invergordon in late '99. In December 80,000 Christmas trees were transported to London for supermarkets in the South.
After a quiet period a new daily intermodal service for Safeway started on 6 April 2000 to Georgemas with swap bodies for Wick, Thurso and Kirkwall.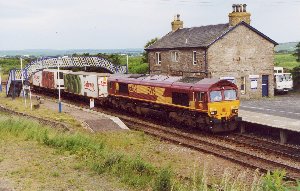 By mid 2001 traffic was on the up again with freezers from Norfrost going to the Potter Group depot at Knowsley with palletised steel as a return traffic and Thurso Transport moving building materials north. Palletised goods are also moving from Law Junction north. With petroleum to Lairg, timber from Kinbrace due to start soon, and other traffic at the planning stages, the future looks bright.