DVDs Review
Steam Driver's Eye View DVDs: Kyle and Highland Main Lines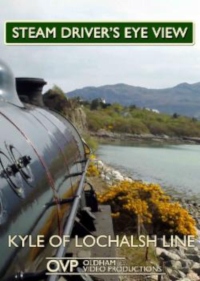 Oldham Video Productions has created this series of DVDs, two of which relate to the Highlands. All are priced at £14.95 despite varying in length between one and three hours. Blu-ray is available at £19.95. Further details can be found at www.ovpsteam.co.uk and orders directed via the link to Videoscene.
The Kyle Line DVD lasts for 3 hours and 15 minutes and features LNER K1 62005. The first 45 minutes or so will cover the tracks shared with the FNL between Inverness and Dingwall. Cameras mounted on both sides of the engine give a very steady picture and the DVD can be played with or without commentary. The commentary is brief and the tapes are refreshingly not spoiled by music.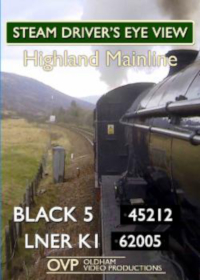 The Highland Main Line DVD lasts for 3 hours 20 minutes and covers a southbound journey on a brilliant day with Black Five 45212 and LNER K1 62005. There is also bonus coverage of parts of the northbound climbs to Druimuachdar and Slochd. Both DVDs give some lineside runpasts also. Highland place names are a challenge to the commentator but are displayed on the screen simultaneously.
Recommended. Maybe the FNL from Dingwall to Caithness will be covered in the future, although we may have to wait a year or two before the next steam special to cover the full length of the line.
Richard Ardern