Mega trucks coming to a road near you soon?
The general public has a right to know that the UK Government and the European Commission are considering whether to allow mega trucks, on our roads. The favoured longer heavier vehicle (LHV) shown in the photo is 60-tonne 25 metre long, which is fifty per cent longer and over a third heavier than existing 44 tonne lorries. Freight on Rail believes that LHVs would mean more lorries, more pollution and more exposure to road accidents and would be opposed by the general public. Previous increases in lorry dimensions have lead to an increase in HGVs driving around less full, which is the absolute reverse of what was claimed would happen by the road haulage industry.
Not only does this evidence undermine the Government's justification for permitting previous increased lorry dimensions but it also questions the validity of current arguments for LHVs. The claimed environmental benefits rely on very high levels of load utilisation - in excess of that routinely achieved within the haulage sector. German LHV trials showed that utilisation of above 77% for LHVs was needed for fuel costs to breakeven whereas load utilisation was 72.6% in the UK in 2005. Heavier lorries use more fuel and so the lack of any efficiency improvements would mean more CO2 emissions.
At a time when the Government is committed to reducing carbon emissions it seems perverse to allow trials of vehicles which will severely undermine rail freight and force train loads of freight back onto the roads when rail freight has a much better environmental record than road haulage. As energy efficiency is directly related to carbon dioxide emissions, rail is significantly more energy efficient than road.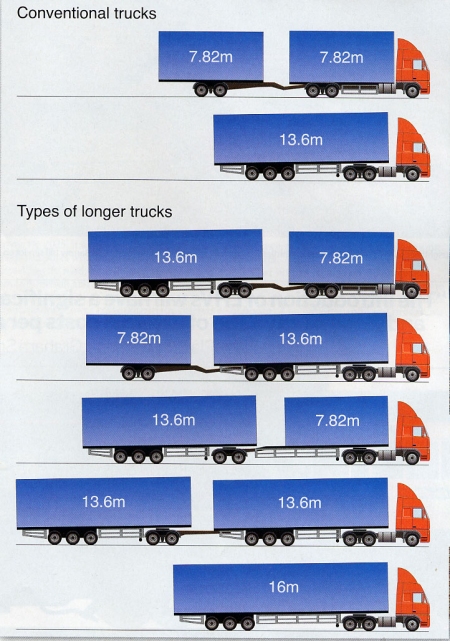 Longer heavier lorries will have minimal impact on road congestion whereas an average freight train which is designed for heavy and bulky cargoes, can remove 50 HGVs from our roads.
We question why the Government is considering allowing trails of longer and heavier lorries when there is poor compliance with existing road regulations on speed limits, drivers hours and weight, all of which put the public at extra risk. LHVs have safety dangers due to their size and lack of manoeuvrability. DfT research found that HGVs were twice as likely to be involved in fatal accidents as cars. Bendy buses, which are 18 metres long, cause more than twice as many injuries as any other bus, according to official figures.
Other questions remain concerning LHVs braking distance, ability to overtake, drivers' blind spots, jack-knifing, and ability to reverse the LHV with its trailer. Where would drivers stop to have their statutory rest periods?
Restricting LHVs to dual-carriageways and motorways simply will not work as there is no mechanism to keep them to this. The reality is that these vehicles will need local access to distribution hubs which are usually off the motorway network. Unlike other European countries, the UK allows all vehicles to operate on any road and at any time unless specifically prohibited from doing so and even then it normally allows access. As a result, we will get these very large vehicles travelling down local roads that are wholly unsuitable for the purpose, with consequent intrusion, noise and road damage and safety implications. Can you imagine what the implications would be on the A9?
LHVs would run counter to the Scottish National Freight Policy which fosters rail freight as LHVs would severely undermine container trains and significant bulk cargoes forcing trainloads of freight back onto the road network. LHVs would also make a nonsense of all the grants awarded by the Scottish Government and its predecessors to encourage modal shift; something which the Government courageously maintained when the grants ceased in England for a while.
Please ask Des Browne, the Secretary for Scotland to urge Ruth Kelly, the Secretary of State for Transport, to take the opportunity to listen to the electorate, and act decisively to reject trials in the UK.
Philippa Edmunds Campaigner 020 8241 9982 Philippa@freightonrail.org.uk http://www.freightonrail.org.uk
Freight on Rail is a partnership of the rail freight industry, the rail trade unions and Campaign for Better Transport.
Members are EWS, Freightliner, ASLEF, RMT, TSSA, UNITE - Amicus section, Rail Freight Group and Campaign for Better Transport.
Freight on Rail promotes the economical and environmental benefits of rail freight
http://www.freightonrail.org.uk email:philippa@freightonrail.org.uk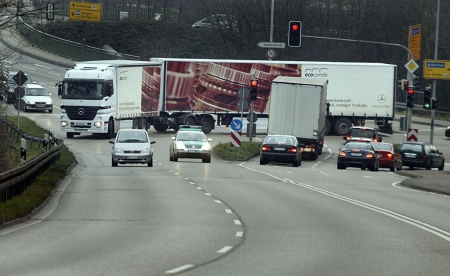 Please sign the petition on http://petitions.pm.gov.uk/Ban60tonlorries