Making Rail Freight Work for The Highlands
by David Spaven
Ever been stuck behind a lorry on the A9 and in frustration asked yourself, "Why isn't that being moved by train?" It's a good question, and the answer is that more freight is shifting from road to rail but all this is at risk from Scottish Government plans to fully dual the A9 from Perth to Inverness without a balancing level of investment in the largely single-track Highland Main Line. Looking at the bigger picture, rail's key technical characteristics - steel wheel on steel rail, and a guided track - mean that it can move large flows of freight swiftly and safely. Much of the contribution that rail freight makes to relieving road congestion is unseen, as trains often run at night. Coal to power stations has traditionally been the biggest customer and Longannet power station is critically dependent on coal brought in by train over the re-opened Stirling - Alloa - Kincardine line. Rail has long been the market leader for overland movement of international containers from Coatbridge Freightliner Terminal to the big five 'Deep Sea' ports in England, one of the positive outcomes of the otherwise infamous Beeching Report of 1963.
The supermarket switch
More recently, a major new development has been the shifting of supermarket supplies from road to rail. When Safeway made history in 1999 by opting for the train instead of trucks for produce to their Inverness area supermarkets, many an A9 motorist was relieved to find there were fewer lorries on the road north. Nowadays - using the rail haulier Direct Rail Services - Tesco shifts produce from Mossend near Coatbridge to the Highlands, and Asda from Grangemouth to Aberdeen, while all the major retailers use rail between their national distribution centres in the English Midlands and regional hubs in Central Scotland. Manufacturers and processors enjoy a cost-effective and reliable supply chain, and regional economies have the assurance of a resilient alternative to road haulage. Much of the supermarket traffic reaches Scotland via the electrified West Coast Main Line, Britain's busiest trunk freight route, with more than 70 freight trains a day crossing Beattock Summit between Lockerbie and Carstairs. But it isn't just main lines that carry freight and take the pressure off our roads. The 'deep rural' Far North Line from Inverness to Caithness, for example, carries regular trainloads of oil from Grangemouth and pipes from Tees-side, plus decommissioned nuclear material south from Dounreay. In total, rail shifts a mighty 14 million tonnes a year across Scotland.
Who benefits from rail freight?
So who benefits from all this rail activity? Manufacturers and processors enjoy a cost-effective and reliable supply chain, and regional economies have the assurance of a resilient alternative to road haulage. Fuel can represent 40% of road haulage costs but typically only around 25% for rail. And electrified railways allow freight trains to be powered by renewable energy sources. With growing concerns about carbon emissions, rail freight stands out as far superior to road haulage, consuming just one third of road-equivalent energy. Freight on rail is also much safer, and shifting from truck to train offers an effective way to reduce the pounding that Scotland's roads get from 44-tonne lorries. A heavy lorry imposes literally thousands of times the damage to road surfaces caused by a car, and there is a massive backlog of road maintenance, with funds being prioritised for building new roads. But more investment in rail could make a very big difference to the daily driving experience of motorists throughout the country. While the private sector has invested substantially in rail equipment and terminals, the crucial provision of route infrastructure still depends on government. The Scottish Government funds route enhancements by Network Rail and, unlike the situation in England, has also retained the valuable Freight Facilities Grant scheme, which can fund up to 75% of the cost of new rail terminals.
Big Highland potential for more freight on rail
The Highland Main Line already handles some significant freight flows - cement, oil, offshore oil pipes and the daily Tesco train - but, given more investment in rail, what additional traffics could shift from road to rail, and thereby reduce capital and maintenance funding requirements for the A9? With growing concerns about carbon emissions, rail freight stands out as far superior to road haulage, consuming just one third of road-equivalent energy. Later this year, an EU-supported trial train operation will convey Speyside and Highland whisky in bulk from Elgin to Central Scotland maturation and bottling plants. One of the key reasons that rail has strong potential from the Elgin/Inverness axis is that there are very long hauls to most markets and, except where large manufacturers or processors have their own sidings, rail generally does need long distances to compete with road haulage. This is described in the HITRANS Case Study Lifting the Spirit. Other whisky-related rail potential includes barley, malt and empty (imported) casks, while foodstuffs produced in the Highlands and Moray could also lend themselves to movement by train to domestic, European and Deep Sea markets. Deep Sea exports in general from the North of Scotland could also switch to a regular rail service from Elgin and Inverness, getting the traffic on rail much farther north than the current train starting point at Coatbridge Freightliner Terminal. Additional retail flows over and above the Tesco train are an obvious target for modal switch, as are timber and biomass from forest to mill and power station. And the Highlands could emulate Edinburgh's long track record of shifting domestic waste by rail.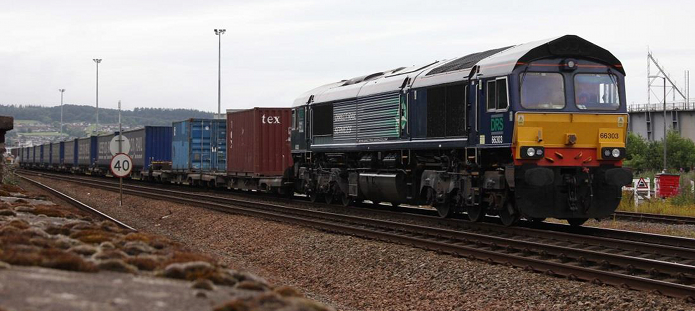 Sandy Colley
But where is the 'level playing field'?
Unfortunately the proposed A9 full dualling - a political decision for which there is a flimsy 'business case', owing to the low levels of traffic on the rural sections of the route for most of the year - poses a major threat to existing and potential rail freight flows. The Scottish Government has failed to treat appraisal of road and rail route enhancement - and the associated public investment - on a "level playing field." Fully dualling the A9 has a breath-taking price tag of £3 billion, but proposed rail enhancements remain uncertain, with the maximum investment capped at just £600,000. Two thirds of the rail route is still single-track, adding extra cost and time to rail operations, and the rail enhancements on offer fall very far short of fully dualling and/or electrifying the railway. Interestingly, the Scottish Government's 2009 Strategic Transport Projects Review (STPR), which was supposed to determine future investment priorities, concluded that the A9 upgrade would have a "major negative impact" on the environment, while rail freight enhancements would "significantly contribute to the objective 'to address issues of driver frustration' by encouraging a transfer of freight from road to rail thereby reducing the number of goods vehicles on the A9. The improvements would make a significant impact on rail journey time for freight movement, which would make this mode of travel more attractive to hauliers. The subsequent reduction in the number of goods vehicles on the A9 would remove a portion of slow moving vehicles from the road leading to less driver frustration." Regrettably - and inexplicably - the STPR did not address the A9 and Highland Main Line upgrades jointly in an integrated cross-modal analysis, evaluating a range of road/rail package options to meet declared policy objectives for the economy, environment and road safety. It is clear that the massive proposed investment in the A9 would transform the economics of road haulage, but what would it mean for freight on rail? The Scottish Government remains silent on this symbolic failure to treat rail and road even-handedly.
David Spaven is the Scottish Representative of the Rail Freight Group and a recognised authority on rail transport of all kinds. His latest books, Waverley Route: the Life, Death and Rebirth of the Borders Railway and Britain's Scenic Railways were published in August and September respectively. His father, Frank, was one of the founders of FoFNL. This article was originally published in the Online Magazine of Scottish Policy Now and is reproduced here with permission. It also appeared in the September, 2013 Modern Railways. The views expressed are the author's own.