Inverness: 'Somewhere in the South', Part 3
The Railway Magazine's series 'Practice & Performance' has been running since 1901.
We have been given permission, by FoFNL member Keith Farr, to serialise this article, which recalls several historic runs over the FNL.
Part 3 (of three) recalls an August 1960 run, during the last year of steam on the FNL, logged by Alastair Wood.
It was in the 1930s that closure of the uneconomic lines - in other words, all of them - north of Inverness was first considered. And, despite the invaluable part played by the Far North Line during two world wars, the prospect of abandonment loomed again in the early 1960s. But the route, unique in Britain, was reprieved and is now going strong. Sensible economies had already been made: in June 1960, 20 stations, chiefly at the south end of the line where alternative transport was available, were closed to passengers, enabling services to Wick and Thurso to be accelerated by around 40 minutes. Sulzer Type 2 diesels replaced 'Black Fives' in 1961, so there was just one year of steam working to the accelerated schedules. How did it cope?
Alastair Wood found out when he travelled to Thurso in August 1960 on what had become the 6.30am from Inverness. But it retained its very mixed formation, comprising one four-wheeled van for Dingwall, two ex-GWR bogie milk vans for Kyle of Lochalsh, a former Great Northern bogie van for Wick and another for Thurso, a BR bogie van and an LNER composite coach working through from Glasgow to Wick, two LMS coaches and a van for Wick, two LMS coaches for Thurso, an LMS restaurant car for Helmsdale, and a four-wheeled van for Bonar Bridge!
Although within the 425 tons tare limit from Inverness to Invershin, this 400-ton heterogeneous caravan demanded hard work from a single 'Black Five', and 45461 did well to drop only half-a-minute to Dingwall, by now the first stop. Many of the stations closed the previous June retained their crossing loops and were generally laid out for 40 mph running, made possible by automatic tablet exchange. But trains could achieve higher speeds between such stations by not stopping at them, and here we have No. 45461 wheeling its 14 vehicles up to 62 mph on the brief downhill beyond Lentran. The rhythm of wheels on railjoints as the train passed would have been entertaining.
With load reduced to 330 tons gross at Dingwall, 62 mph was again reached between the slacks through Evanton and at Alness, where they had to come down to 15 mph. Despite a prolonged stop at Invergordon, left 10½ min 'down', a sprint up to 64 mph alongside the Cromarty Firth brought them just eight minutes late into Fearn, the next stop.
At Bonar Bridge, they had to pull up twice to detach the four-wheeled van, at the same time crossing No. 45165 on the 7.00am from Helmsdale. The request stop at Culrain was not required, although the sharp curve demanded a reduction to 15 mph; and, across the Oykel Viaduct, stopping at Invershin did not augur well for the climb to Lairg.
Now with 320 tons gross, No. 45461 plugged away steadily, speed rising to 27½ mph on the 1-in-72 before curves reduced it to 26. Restarting from Lairg on 1-in-70, they were up 25 mph by the summit, presaging a moderate descent of Strath Fleet interrupted by a long 20 mph permanent way slack at Rogart. The station at The Mound, closed, with the Dornoch branch, 2½ months earlier, lies at the summit of a short length of 1-in-70 which reduced speed from 49 to 40 mph, and they were only three minutes late at Golspie.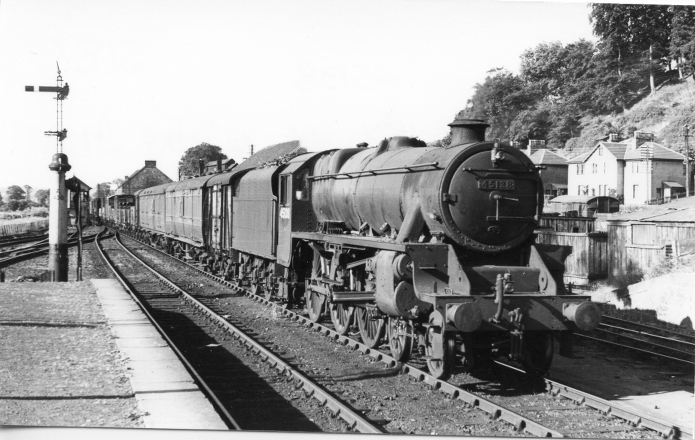 Regrettably, the gain was lost by overtime and departure 'was 'seven down' as the Class 5 accelerated steadily to 20 mph on the 1-in-60 to Dunrobin. There followed brisk but unexceptional progress along the coast, with a non-stop run from Brora to Helmsdale following the closure of Loth, at the entrance to Glen Loth where one of many 'last wolves' in Scotland was allegedly shot.
At Helmsdale, the 45-ton restaurant car was removed by 'Caley' 0-6-0 No. 57287, and the 12min station allowance was cut by 3½min. So, with load lightened to 270 tons gross, they departed only 1½ minutes late, the 'Black Five' slipping slightly in her eagerness to tackle the climb to County March. It so happened that I was on the 6.30am from Inverness only five days earlier and I remember the two Dornoch pannier tanks, Nos. 1646/9, which had replaced the Highland 0-4-4Ts, looking forlorn - and, in the rain, wet - outside the tiny shed awaiting their fate. Helmsdale must surely be the farthest north ever visited by GWR-designed locos!
Returning to Mr Wood's journey, No. 45461 took the 1-in-70 above Salzcraggie at a minimum of 42 mph and attained 55 before arriving at Kildonan. The next climb, at 1-in-60, was mounted at 25½ mph, followed by 52 at Borrobol Halt, which had escaped the June 1960 purge but was closed in November 1965. The minimum before windswept Kinbrace - Kinbrace is always windswept - was as high as 35 mph, but speed would almost certainly have fallen further had the 1-in-60 climb been longer.
As a result of this energy they were on time into Kinbrace but had to pull up twice to cross No. 44801 heading the 9.20 from Wick, losing two minutes. Onwards to Forsinard the gradients are generally easier, partly at 1-in-128, and here No. 45461 fell from 46 to 40 mph.
From Forsinard the short, sharp drop at 1-in-60 prompted a rapid acceleration to 43 mph before tackling the final 1-in-60 at 29½ mph, accelerating to 37½ on a short length of 1-in-140 and mounting the summit - surely the bleakest on any British railway - at 34½ mph. At Altnabreac they were two minutes early and, despite crossing a southbound freight led by classmate No. 44698, station time was shaved to 46 seconds, resulting in a departure ahead of schedule: not to be recommended but perhaps excusable in such a remote spot where any intending passenger would be visible a mile away!
Without exceeding 55 mph, the 6.30am Inverness reached Georgemas 4½min early, Alastair Wood commenting that "45461...ran very well with the heavy train over a difficult road". But when he saw that the Thurso branch engine was 'Caley Bogie' No. 54482 he hurriedly transferred to that portion, comprising two coaches and a van!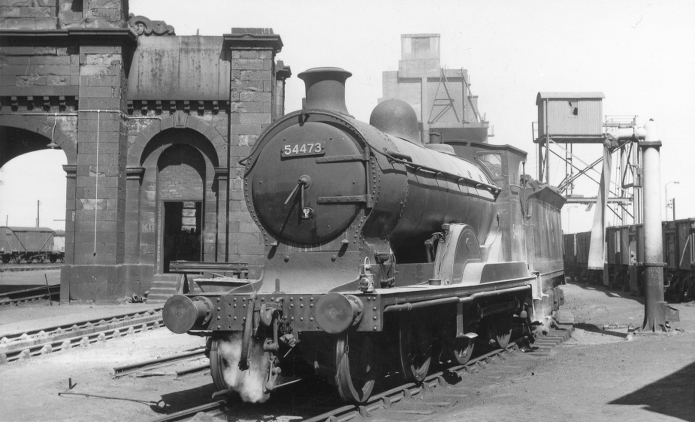 During the development of the nearby Dounreay atomic power station, Thurso grew in importance while the fishing town of Wick declined; so Thurso ceased to be the branch and is now the main Caithness railhead, with a considerable time advantage from Inverness.
Keith Farr