Headcode
AGM: Please note, our 2020 AGM & Conference has been cancelled.
I begin with two announcements: having sent out a request for members' email addresses to which I attached a plea for a volunteer to become FoFNL Secretary I'm delighted to say that we received an offer from Neil Wallace, who lives in Kiltarlity, near Beauly. We have co-opted Neil to the Executive Committee and accepted his secretarial offer.
Neil is a registered Health & Safety Consultant, with a background in Civil Engineering, Construction and Transportation and has a keen interest in improving the Far North Line - we are looking forward to working with him.
My second announcement is that committee member and renowned railway author David Spaven has now stood down as Scottish Representative of the Rail Freight Group. We shall continue to tap into his expertise in this vital field, as efforts throughout the rail industry to gain modal-shift of freight to rail are stepped up.
We often publish articles by David - his final article for Friends of the Scotsman, published on 31 March, arrived too late to reproduce in this issue, but his final sentence sums up our collective view on Scottish Government transport policy:
The big symbolic test of the Scottish Government's commitment to change will be whether it continues to back the £6,000 million+ dualling of the A9 and A96 roads, linking Inverness with Perth and Aberdeen - or finally admits the parallel, largely single track, inter-city railways desperately need the same single-minded drive to bring them into the 21st century.
As you will see elsewhere in this issue , FoFNL sent a letter to all MSPs at the beginning of March in much the same vein. Until the politicians, who have the final say over which projects are funded, really embrace the need to place a hold on large road projects - yesterday's transport solution - and look to achieving large, prestigious, rail projects, nothing much will change.
Meanwhile, the regrettable failure to admit to giving a misleading Parliamentary Answer, as laid out in the Parliamentary Questions page, displays a worrying willingness in Government to avoid confronting the failure so far to properly address the infrastructure needs of our main feeder route from the south. There has not been a 10-minute reduction in journey times between Inverness and the Central Belt. This is not a time for complacency.
FoFNL is, of course, delighted that work is proceeding apace on development and costing for the significant improvements which are coming to the Far North Line, but is always aware that so many of our travellers are using the Highland Main Line or the route to Aberdeen for a large part of their journey.
Ian Budd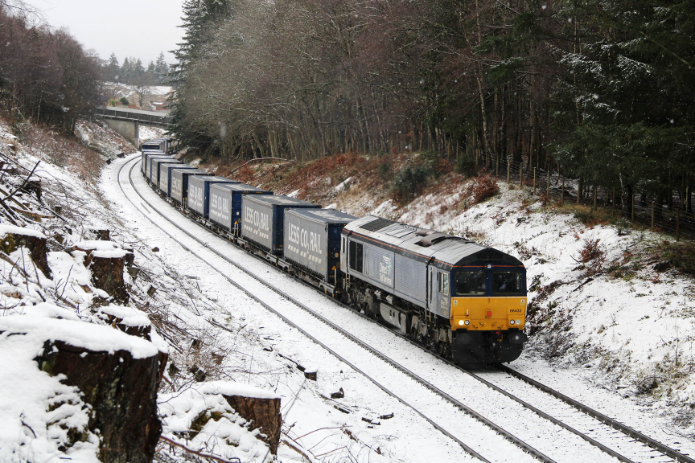 Photo: Sandy Colley