Carbisdale Castle Sold?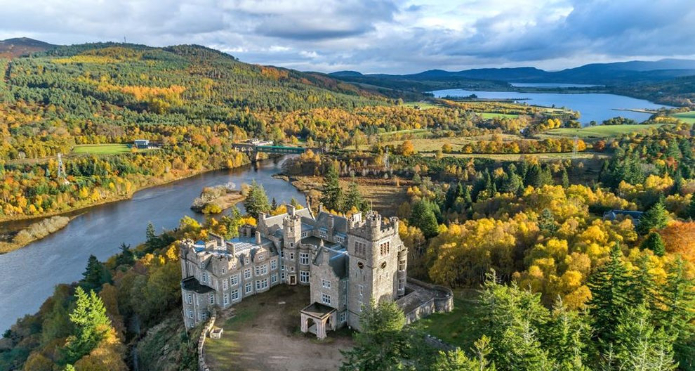 This aerial view of the castle - courtesy of Strutt & Parker, the sales agent - shows how it overlooks Sutherland from across the River Oykel. The railway is clearly visible crossing the river on the bridge from which our logo is derived!
Few passengers on the Far North Line would believe that the imposing castle they see between Culrain and Invershin is nearly 50 years younger than the railway line on which they are travelling. Nor might they know of its interesting history.
Carbisdale Castle, in the Scottish Baronial style was built for Mary, Dowager Duchess of Sutherland, the second wife of the 3rd Duke. As the widow of a cavalry officer who was an estate employee she was considered highly unsuitable by the family who were even more incensed when he died leaving her the Sutherland millions.
During acrimonious legal proceedings to reclaim their fortune the Duchess destroyed relevant papers and as a result spent six months in Holloway Prison. A settlement was eventually agreed which included the provision of a suitable residence for her, but outside the County of Sutherland. Hence the siting of Carbisdale Castle, south of the River Oykel in the adjacent county - but overlooking Sutherland towards which its clock tower bore a blank face. The castle, built in a variety of styles to belie its age but basically the fashionable Scottish Baronial of its time, was built between 1905 and 1917 but Mary was never to see its completion. She died in 1912.
It was purchased in 1933 by Theodore Salvesen, a Scot of Norwegian extraction and owner of the Scottish shipping company Christian Salvesen. On his death the castle passed to his son Harold and it provided a safe haven for the Royal Family of Norway during WWII.
Harold Salvesen gave the castle and its contents to the Scottish Youth Hostels Association and in 1945 it became Scotland's grandest youth hostel. Needing multi-million pound repairs it was closed in 2011 after 66 years, and placed on sale in 2014. A developer had plans for a 5-star hotel with a swimming pool and spa, and a significant amount of money was spent on refurbishment, but the partly restored castle has now come onto the market again and is currently (Aug 2021) "Under Offer" @ £1.5 million, a figure which would buy a reasonable "4-bed detached" where some of us live.
A consequence of the hostel's closure was a significant reduction in the number of passengers using Culrain Station. From 1722 in 2010 the number had fallen to 312 by 2019-20.
Frank Faulkner
Editor's Footnote: The Duchess was a scandalous figure, and rumour has it that she was the inspiration for both Oscar Wilde's Mrs Arbuthnot in A Woman of No Importance and the wicked stepmother in the 1950 Disney version of Cinderella.