ScotRail HSTs
ScotRail has published some information about the fleet of HSTs which will begin to enter service between the seven cities from May 2018. The complete refurbishment will make what are effectively new trains out of existing stock from the 70s and 80s. Some press reports about this have made much of the age of the trains; this is to miss the point: a fine stone villa would never be described as "just a hundred-year-old house".
Wabtec Rail begins the refurbishment of 121 Mk3 coaches this year. They will be formed into 9 4-coach units for the HML and 17 5-coach units for Central Belt to Aberdeen services giving 206/278 standard class seats and 32 first class. This compares with the current trains which are in fixed 3-coach units with 179 standard class and 18 first class in each set.
From the passenger point of view the whole environment of the Mk3 coaches is more comfortable, with more legroom and with less noise, because the engines are in separate power cars and not beneath the coaches.
The refurbishment involves the installation of power doors and the replacement of all seating. First class will have leather reclining seats and standard class will have the same seats as the Inverness-based Class 158 units currently used on the FNL. First class passengers will be provided with complementary self-service catering including a coffee machine, hot water and a microwave. There will also be a fridge/chiller cabinet.
Cycle storage will be available for two bikes in one carriage and there will also be room for three bikes in both power cars for end-to-end travellers, making a total of eight spaces.
ScotRail states that journey times will be reduced e.g. journeys between Inverness and Edinburgh/Glasgow will, on average, be 10 minutes quicker. This is because the power/weight ratio of the HSTs is significantly better than the class 170s which operate the routes at present. Class 170s have a p/w ratio of 9.3 hp/tonne whereas the HSTs come in at 16 hp/tonne for a four coach unit and 14.2 hp/tonne for a five coach unit.
Brush Traction of Loughborough is to refurbish the 54 Class 43 power cars.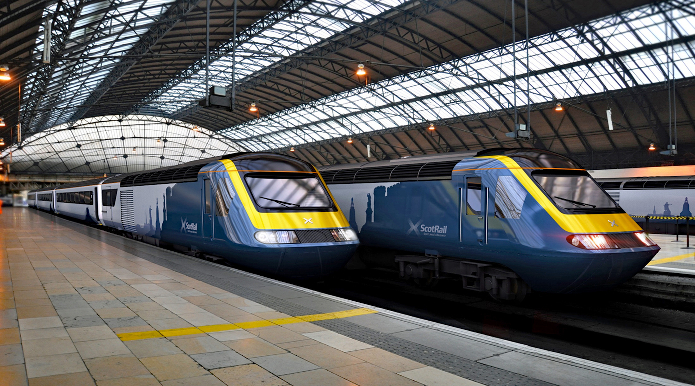 © ScotRail