Thrumster Station
Thrumster Station on the short-lived Wick to Lybster railway has been beautifully restored by the Yarrows Heritage Trust.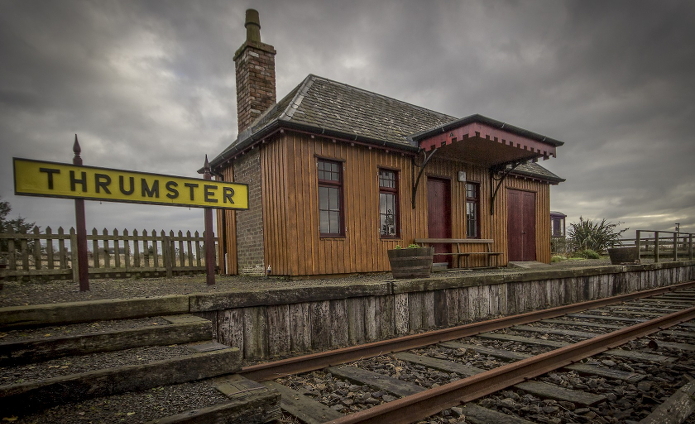 The last Highland Railway line to be built was the Wick and Lybster Light Railway. Although built and operated by the Highland Railway to Light Railway specifications laid down by the Light Railways Act 1896 it was financed almost entirely by local government and a local landowner, the Duke of Portland.
The intention was to expand the fishing trade from Lybster and providing a link to the national rail network was deemed a necessity for this. However, the fishing trade didn't really take off and the construction of a road over the Ord of Caithness in the 1930s meant that the railway could not compete. The line was only open for 41 years, from 1903 to 1944.
The line was dismantled immediately on closure but some structures survived, including Thrumster Station. The building was deteriorating and in 2005 was purchased by the Yarrows Heritage Trust, which had been set up in 2002, with a view to using it as an information point for the area and to create a community garden from the adjacent derelict sidings.
Initially there were sufficient funds only for the purchase of the station building and completion of the platform and community garden. It wasn't until 2011 that enough money had been raised to renovate the station building itself. As much as possible of its original structure has been retained but the original goods section of the building has been re-used as an exhibition area.
An important element of the second phase of restoration of the site is the creation of a woodland area next to the community garden. Deciduous trees have been planted here and a pond has been created in a naturally wet area of the site. A wild flower meadow has been sown too, helping to provide additional local habitat for wildlife.
The station building restoration is now complete and as a finishing touch the original station platform sign has been re-erected and repainted in its original colours. Consisting of solid metal lettering on a timber board it evidently "weighs a ton"!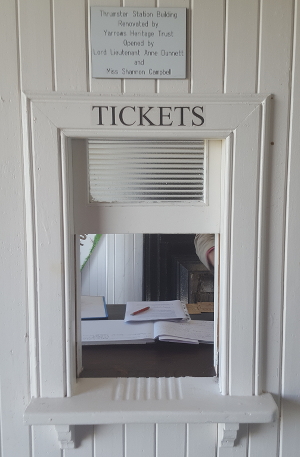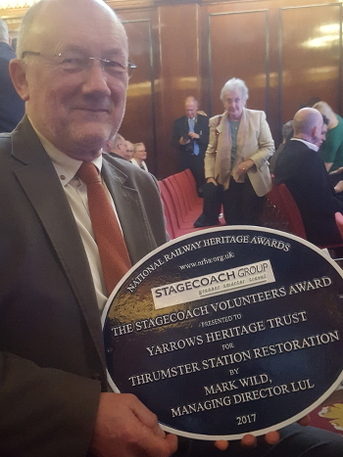 The success of the project was recognised on 6 December at the National Railway Heritage Association annual award ceremony at Merchant Taylors' Hall in the City of London, when The Stagecoach Volunteers Award was presented to Ian Giles, station resident and a founder member of the Yarrows Heritage Trust.
Ian Budd