Book Review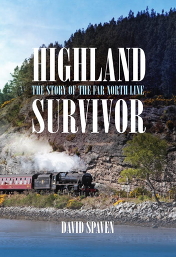 Highland Survivor - The Story of the Far North Line
by David Spaven. Kessock Books, 2016. 314 pp paperback. ISBN 978-0-9930296-4-6. £16.99. Available in bookshops or online, www.kessockbooks.co.uk .
It would be hard to think of anyone better-qualified to write this book. David Spaven has worked on the line, written several important books about railways, is a FoFNL member and the son of FoFNL's founding Vice President, Frank Spaven, who had been instrumental in saving all the main lines north of Perth from closure in the 1960s.
The book is in three very logical sections: Before Beeching, The Beeching Era and After Beeching.
The first part explains exactly what led to the Beeching Report and how it affected the FNL and would be a very worthwhile read even for someone for whom the FNL holds no special interest.
Part Two vividly portrays the struggle to save the line and the sometimes conflicting elements of that struggle. This is where Spaven's personal knowledge is invaluable. The final section of the book charts the progress of the FNL since its reprieve and brings into sharp focus the changes which have occurred and which have led to the difficult situation which the Scottish Government and the ScotRail/Network Rail Alliance are now having to address.
Spaven has laid out what he thinks needs to happen urgently, and the consequences of doing nothing. This has led to some fairly robust assurances from official quarters and, most importantly, has linked in with our own campaigning, to the point where major action to improve things now looks likely.
Highland Survivor is required reading for all concerned in any way with the FNL - as users, campaigners, politicians or observers and is a thoroughly enjoyable read. It was good to hear that it has been short-listed for the Railway & Canal Historical Society's Railway Book of the Year Awards 2017.
Ian Budd