Tina's Tearoom, Dingwall Station
How it all began
It was a sunny Sunday in August 2013 - as I left Church my arm was grabbed and a member of the congregation told me "The Station Tearoom is up for Sale!" "What does that have to do with me?" I asked in surprise. "You have to buy it - it has your name written all over it!" she declared. "Are you mad?" I spluttered - "I have a job I love and taking on a business would mean employing staff and working ridiculous hours and no no no, it's not for me!" A seed had been sown though, and after much discussion, deliberation and canvassing of friends and family it seemed I was the only person who thought it was a crazy idea! I decided better to regret the things we do in life than the things we don't! I regretfully resigned from my lovely job running Muir of Ord Library and said a very sad farewell to all my readers with a promise that their first cup of tea or coffee and slice of cake would be on me.
I had expected to take over at the beginning of November, however, the previous owner wanted out sooner than that so I found myself on Wednesday 23rd October as the proud owner of a Tearoom!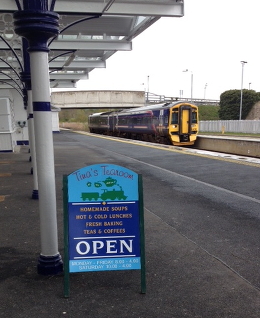 Had you asked me the first day what that entailed I would have told you "driving" - I seemed to spend all day in the car fetching stock and supplies from various places. I inherited three members of staff so at least someone knew what they were doing.
I confess to being quietly terrified for the first few weeks as well as exhausted - the Tearoom was only open from 10am to 4pm in those days but my working day seemed to be never ending. Up early to get baking done and staying on into the evening doing cleaning and paperwork.
However, here we are 18 months on and while I can't say I am completely organised - the mountain of paperwork needing to be "caught up with" seems to grow rather than diminish - I am certainly more in control of things than I was in those early days. I am much more organised with the baking and can get cakes and tray bakes made in an incredibly short time. I can also get scones and pancakes made and in the cabinet well before 10am each day for the "morning coffee" crowd.
I was careful not to change too much too soon as we had very good support from locals and I didn't want to scare them off. I had a log burner installed in October 2014 and that was a wonderful and very welcome addition.
My husband also put up a model railway - a hobby he is passionate about - and he changes the engine and rolling stock on a regular basis.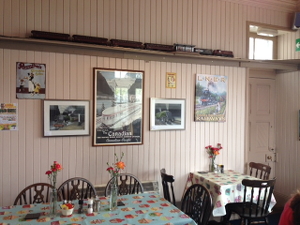 The original idea was that the train would run continuously, but it is far too loud so it is only run when people ask to see it - which seems to make it much more special. Children of all ages are delighted when it is put on "just for them"!
We re-arranged the pictures which were on the walls - all done by local artists and for sale - and made the end near the platform the "Railway" end. The model railway is at this end and we have lots of railway related pictures on display - mostly from home! These often instigate conversations as people reminisce about the old trains and adverts - one of the pictures we could have sold at least a dozen times! We also stock, for sale, railway books and steam train pictures as well as some small prints of Dingwall Railway station from years ago - all very handy for that last minute birthday gift!
The opening hours have been increased so we are open from 8am Monday to Friday and from 10am on Saturday and we close at 4pm each day. We are still closed on Sundays.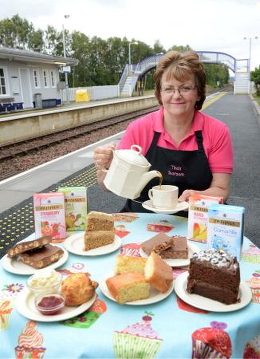 In the summer we have many visitors from the local campsite who come in for a cooked breakfast but in the winter months I am normally left in peace to get the scones and pancakes made and the cakes decorated. We have tables and chairs on the platform when the weather is warm enough and not too windy - only problem being the seagulls who like to swoop down and help themselves to whatever they can carry.
Our customers are pretty varied - lots of locals who meet friends and family on a regular basis for coffee or lunch. Lots of visitors, particularly in the summer months, many of whom are heading north or west on the train for the day (on very sunny days I do confess to feeling a wee bit jealous of them as they buy a sandwich and a drink for the train as I would love to be clambering aboard myself!) commuters, football fans as we are so handy for Ross County, and of course lots of people heading home or away on holiday. There is also a very young regular who likes to come and see the Royal Scotsman each week in season - and his granny often treats him to an ice lolly.
So did I do the right thing? I can't say it has all been plain sailing but there is nothing quite like someone telling you how much they enjoyed their scone with our homemade jam or a slice of cake - and that makes me feel very lucky indeed!
Tina Swanson
Sadly it looks as though Tina's Tearoom is a casualty of Covid. It is currently (25 March 2021) closed and the FB page says it will reopen soon under new management.

Station Square
Dingwall
Ross Shire
IV15 9JD
Tel: 01349 865 894