Caroline Travels North
At the beginning of October the Far North and Kyle lines received a visit from a particularly interesting vehicle. I'm not normally wishing to refer to railway vehicles as 'She' but in this case it seems rude not to.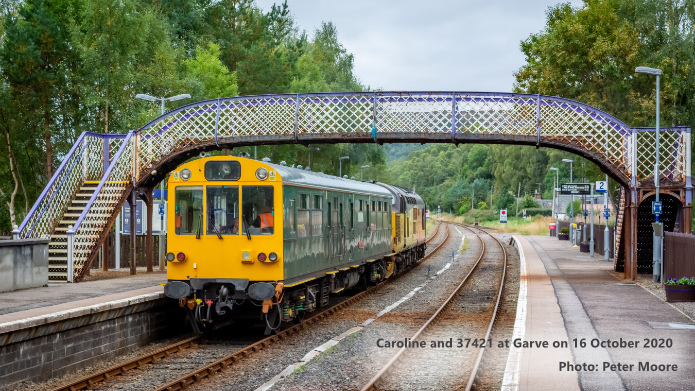 Her name is Caroline and she has a notable history. She was built in 1958 as a buffet car for one of the 'Hastings' DEMU (diesel-electric multiple unit) sets.
She has the noticeably narrow profile which was needed for trains on that line, due to the restricted width in the eight tunnels between Hastings and Tonbridge. The original contractors in the 1850s had cheated the South Eastern Railway by building the tunnels with insufficient lining. Soon after opening brickwork began to collapse and the remedial work narrowed the tunnels by 18".
Caroline now travels the entire UK rail system as an inspection saloon, and in 2008 was designated by the Railway Heritage Committee to be preserved when Network Rail no longer needs her.
Caroline's timeline is more interesting than the average railway carriage:
1963: buffet services on Hastings line reduced, so withdrawn
1969: converted, and fitted with push-pull train controls, to become Southern Region General Manager's Saloon
1981: used in the honeymoon special of the Prince of Wales and Lady Diana Spencer from Waterloo to Romsey
1982: transported Pope John Paul II from Gatwick Airport to London Victoria
1992: became first standard gauge passenger service into the Channel Tunnel, propelled by a Class 73. (see photo on first page)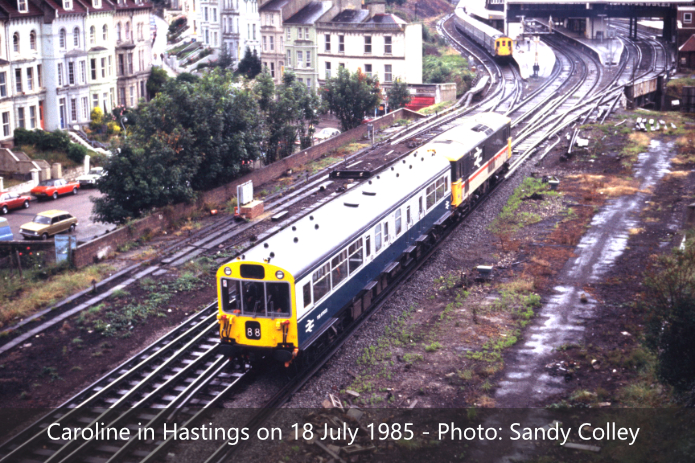 Readers will be familiar with another rail vehicle which has carried even more famous dignitaries - 'Dunrobin', the Duke of Sutherland's personal locomotive. [FNE 74, May 2018]
Ian Budd