An Afternoon in Altnabreac
On Tuesday 29th July I fulfilled a long-standing ambition to visit Altnabreac.
Since the first time I saw Altnabreac on an Ordnance Survey map in my local library in, I think, 1977 I have been determined to visit this strange isolated place. This year spending two weeks of summer holiday in Watten seemed to present the ideal opportunity to make this long planned visit.
I have travelled the length of the Far North Line a couple of times over the past few years but had never yet alighted at Altnabreac or indeed ever been on a train that actually stopped there.
On the big day my wife and my three children (ranging from 13 to 20 years in age) assembled in Wick station car park and changed into our walking boots. We also made sure that we had waterproofs and plenty to eat and drink.
I was so excited to walk into the ticket office at Wick station and request my five day returns to Altnabreac. I was somewhat disappointed when the lady at the ticket window barely raised an eyebrow when I mentioned my intended destination! Anyway soon we were pulling out of Wick station on the 12:35 to Inverness. Before long the conductor came along to do her ticket inspection and I eagerly informed her of our requirement for the train to stop at Altnabreac. Again I was somewhat disappointed by her lack of reaction. I was expecting her to at least show some surprise that anyone wanted to alight at that remote location. I was beginning to wonder whether perhaps more people visit this place than the statistics show.
The journey from Wick to Altnabreac is little over an hour so before we knew it we were getting ready to disembark. I must confess that at this stage I was beginning to worry that the train would not stop and that the lack of any reaction from the Guard was because she had misheard me. Thankfully my fears proved unfounded and we were soon slowing down for the stop. Amazingly there was a lone cyclist waiting on the platform ready to board the train so with five of us alighting as well it must have been as busy at it gets at this lonely outpost.
We watched the train disappear into the distance and then prepared to explore the area. I knew that the old station house had recently been on the market (it must now have been sold as you will see later) so I had a quick nose through the windows. I must say that it looks as if it will need a fair amount of work on the interior to make it a comfortable place to live. But what a great location if you want solitude.
We soon set off down the footpath past the other house, which sits, immediately behind the station. This has a plaque with the legend "Altnabreac twinned with Washington DC" attached to the side! We exchanged a wave with the owner who was in his garden and carried on down the path towards Loch Dhu. After about a quarter of a mile there is a derelict two storey cottage on the left and then after about another quarter of a mile we got our first sight of the imposing and, it has to be said, somewhat sinister looking Lochdhu lodge. The first thing we noticed, as we got nearer, was the sound of two massive wind turbines in the grounds, presumably to provide power for the house and various outbuildings. I understand that until the 1970s this was a hotel and it is certainly more than big enough to have fulfilled that purpose. It seems to take forever to walk past the house as it is so vast, and in some ways entirely out of place, for such a remote location. We did spot a young boy playing on a climbing frame who we exchanged a wave with. If you want to read more about this house and its inhabitants I can recommend the final chapter of Dixie Willis's book 'Tiny Stations'. Once you have read that you will understand why we didn't call in on the owner!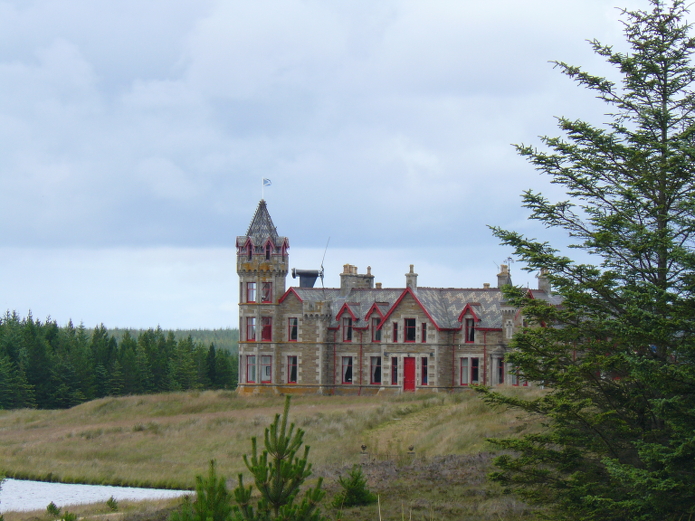 We walked on for a further half a mile or so to the point where the forestry plantation ends and the land opens up into a vast expanse of moorland. At this point we decided that we would retrace our steps and then walk over to the other side of the railway. I should point out that despite it being quite windy, it was remarkably warm, with intermittent sunshine, although in these parts you always have to be prepared for a dramatic change in the weather. Sure enough as we walked back the wind increased and the heavens opened. Fortunately within five minutes the sun was out again.
We soon reached the junction in the forest tracks where we turned left towards the foot crossing over the railway. Once we had safely crossed the line, we turned right and headed up the slope which goes in the general direction of the station but bears slightly to the left. I managed to get some good photos of the station from an angle that I had not seen before.
After about half a mile of walking up this track it was time to turn back. If we missed the 17:16 back to Wick we would have had a 4-hour wait for the next train and I think we would have struggled to amuse ourselves for that long! As it was we arrived back at the station much more quickly than we expected and whilst wandering around the platform inadvertently caused the 16:55 to Inverness to stop! The guard didn't seem to mind and I expect that this often happens when people are waiting for the 17:16 going the other way.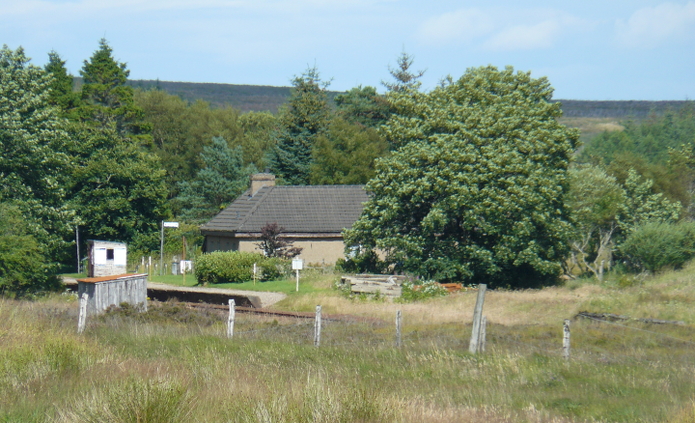 The other interesting thing we noticed whilst waiting at the station was a couple arriving in an estate car who let themselves into the station house. I can only assume that they were the new owners. I hope that whatever plans they have come to fruition and that the building is soon occupied again.
While we were waiting the heavens opened again and we were glad of the shelter on the station platform.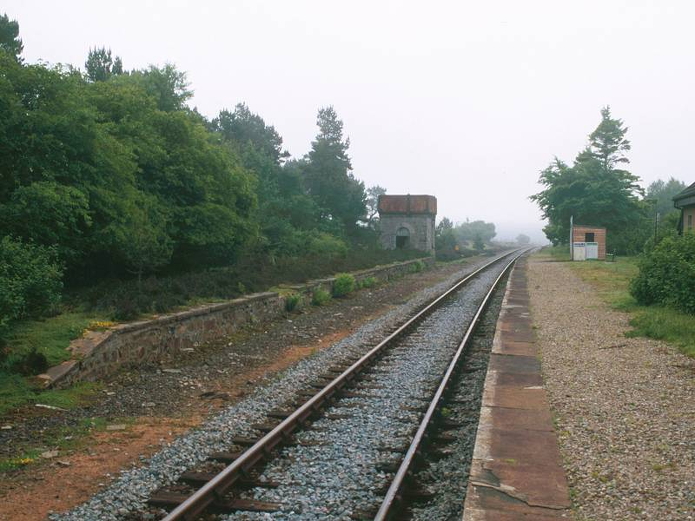 Before long we spotted our train in the distance and we were soon on board and heading back towards civilisation.
Reflecting on our trip I am glad that we did it and I am sure we will visit again. I love the desolate feeling of this part of Scotland, it really does feel like another world. As to the station, whilst it may be surprising that it has survived so long, it is even more of a mystery as to why it was built in the first place, there really is nothing there!
Note: If this inspires you to follow in our footsteps, do make sure that you go suitably prepared. The forest tracks are very good but I would recommend walking boots. It is also worth taking waterproofs even if the sun is shining when you set out, the weather can change very quickly. I did get an intermittent signal on my O2 mobile phone. In an emergency there are only one or two inhabited places that you could go to for help, although there is a help point in the station waiting shelter.