TOPICAL MATTERS and NEWS
---
Highland MSP to meet with Abellio
Highland MSP, Rhoda Grant, who has been campaigning vigorously for improvements to the Far North Line over recent months, has announced that she will be meeting with Mike Kean, Rail Development Director for Abellio in the UK, on March 11th in the Scottish Parliament.
Mrs Grant said, "Abellio has the chance to turn this failing line around - let's hope they seize the opportunity."
Referring to the meeting, during an interview on Radio Highland, Mike Kean commented, "Looking at that line I think there is a need for a longer term solution to invest in that line and improve it."
January 2015 Newsletter
The January 2015 newsletter is now published on the site.
This is the largest issue yet and gives a real flavour of the current state of the Far North Line. Clearly things must change as soon as possible, so all eyes are on Abellio to see whether they can work with Network Rail and the Scottish Government to effect rapid improvement.
If you enjoy this newsletter and would like to receive a hard copy of future newsletters as soon as they are published, rather than four weeks later online, please consider joining FoFNL . Clearly the more members we have, the more effective a lobby group we can be.
Railway focus must now switch to the north
Letter from Richard Ardern published in The Herald 12th Feb 2015
Your correspondent John Macnab (Letters, February 9) made the case for rail infrastructure investment north of Perth to Aberdeen.
The following day, the cement train was late and delayed the 07.10 Glasgow Queen Street to Inverness passenger train by 55 minutes on the single-track line north of Perth.
It is really good that the Borders Railway is nearing completion, but the focus now needs to turn to improving capacity to the north. The lines between the cities of Perth and Inverness and between Inverness and Aberdeen are mainly single track and consequently suffer from chronic congestion. The 07.10 had to wait for 24 minutes at Dalwhinnie and it was Carrbridge before a loop could be found for it to overtake the cement train.
The Scottish Chambers of Commerce have long campaigned for a first arrival in Inverness soon after 9am. Imagine the inconvenience caused to all the passengers, and especially those with business appointments, that their first possible arrival of 10.27 turned out to be 11.22.
The retail industry would like to have their goods in to Inverness by 8 am but there isn't the capacity for more freight trains to do so. This is not just a Highland problem. It affects the economy of Scotland plc.
The line from Perth to Inverness would benefit more than any other in journey time savings from electrification because electric trains would be so much superior on the long hills over Drumochter and Slochd. Couple this with a good measure of doubling and you start to get a railway fit for purpose and fit for the future. This should be coupled with Transform Scotland's call for the reopening of a much faster direct line between Perth and Edinburgh. Electrify that, and Mr Macnab's dream of reopening the Strathmore route to Aberdeen could be next giving Aberdeen, once again, a choice of routes and capacity to the south.
Finnie Wins Support for Far North Line Improvements
John Finnie MSP, Independent Member for the Highlands and Islands, today secured support from the Derek McKay, Minister for Transport and Islands, to put pressure on Network Rail to improve the Far North Line.
Mr Finnie questioned the Scottish Government on what it was doing to support the transfer of road haulage to rail, explaining that some of the freight trains travelling on the Far North Line have to travel significantly under capacity due to restrictions on the line.
Mr McKay confirmed that he while he was already working with Network Rail to improve conditions on the Far North Line; he would examine the situation on the Far North Line and would apply further pressure on Network Rail for conditions to improve if required.
Commenting on the Minister's answer Mr Finnie said:
"I very much welcome the answer the Minister gave today. I am convinced that upon further examination the Minister will put more pressure on Network Rail to improve the Far North Line.
"Those who frequently travel on the Far North Line know the difficulties posed by the condition of the line and know first-hand, often in great detail, where the greatest problems lie. I would encourage the Minister to reach out to those who use the line often, including Friends of the Far North Line, to get a first-hand experience of life using the line. I know that such testimony will help the Minister fully understand the pressures facing the Far North Line and cause him to press Network Rail into significant improvements."
You can read a transcript of Mr Finnie's question here.
Club 55
First ScotRail is again offering unlimited rail travel anywhere in Scotland and down to Carlisle or Berwick-on-Tweed for those aged 55 and over at a fixed price of £19.00 from 12tth January to 31st March This could be a golden opportunity to visit the Far North Line if it is outwith your normal travelling area. Senior and Disabled Railcard holders also receive a further £2.00 discount.
Club 55 Premier offers first class travel for £35.00 from Inverness to Aberdeen and from Inverness or Aberdeen to Edinburgh or Glasgow. You can buy your Club 55 ticket from any staffed ScotRail station, or by calling 0330 303 0111, or online at www.scotrail.co.uk/club-55 .
Franchise News
Abellio's ScotRail website features a "manifesto" for the future of ScotRail services. This excerpt gives an indication of the way they are thinking.
We have put together a clear plan which will make sure your journeys are quicker, more comfortable, more reliable, better value, and easier - not just when travelling on the train, but throughout your entire trip from door to door. In short, we have re-thought the ScotRail service to make sure it is in tune with the way you have told us you want to live whether travelling to work, on business, visiting friends and family or to enjoy the great outdoors.

On routes between Scotland's seven cities, we will introduce faster, more spacious trains with more carriages and new onboard facilities. We will also speed up journeys elsewhere on the ScotRail network by sharpening timetables and improving connections between our services wherever there is an opportunity to do so.
We are particularly looking forward to the intended speeding up of the timetable as well as the improved connections. This is of particular interest in Inverness where the station layout currently forces passengers to/from the FNL who are connecting with some services on the Highland Main Line to Perth and the South or services to Aberdeen to come through the new ticket barriers twice - a very time-consuming process. Any improvement to connections must involve the addressing of this issue.
FoFNL Policy for CP6
FoFNL has produced a policy document setting out our aspirations and recommendations for Network Rail to include in its planning for Control Period 6 (CP6) 2019-2024.
Part 2 of this document was produced at the end of October.
If you have any comments or require any information please contact FoFNL by
E-mail
Welcome to the Friends of The Far North Line
The Friends of the Far North Line is the campaign group for rail north of Inverness, lobbying for improved services for local users, tourists and freight.
Our website will give you an insight to FoFNL's successes and concerns. You will find a complete collection of newsletters dating back to 1998 as well as an archive of interesting documents.
This is a map of the Far North Line which is situated in the northernmost part of Scotland. Hovering the pointer over the name of a station will display a local photo.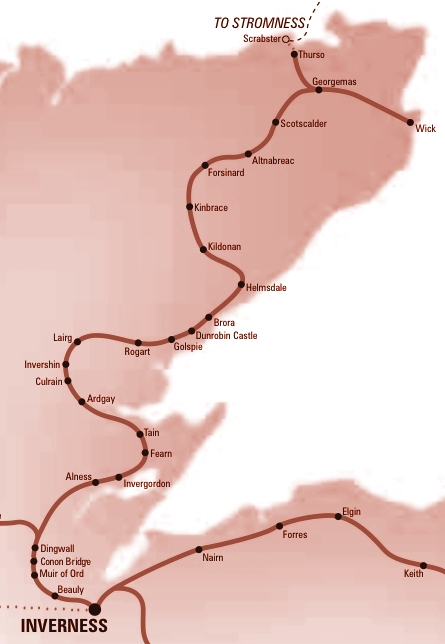 Our aims include:
The continued retention and improvement of the line from Inverness to Wick/Thurso.
The development of services for local residents and tourists alike.
Enhancement of freight services.
Publicising the line, its attractions and potential.
Liaison with local groups to foster interest in the line.
Liaison with ScotRail, statutory bodies and tourism authorities.
The use of the line by heritage trains.
Our 1995 conference for rail interests was the precursor of the Highland Rail Partnership a collaborative body spanning the Council, Highlands and Islands Enterprise, local Enterprise companies, rail operators, the Friends Groups and others.
Achievements include the Easter Ross commuter train, Beauly and Conon Bridge stations, all-year Sunday trains, initiating the re-introduction of significant freight, the transporting of extremely long lengths of pipe to Wick, and the building of a footbridge alongside the Shin Viaduct. A substantial increase in freight is still needed and we will continue to persuade haulage contractors that there is an alternative to driving long distances over inadequate roads.
We continue to seek shortened journey times and hourly services between Inverness and Tain. We aim to work in partnerships, we publish a thrice yearly Newsletter, we are democratically governed through our AGM and a geographically representative committee.
---
Join...
If you would like to join The Friends of The Far North Line please download, print out and complete the application form. If you prefer, you can phone our Membership Secretary on +44 (0)1334 475311. Annual membership is only 12 UK pounds (10 for concessions).
---
Office Bearers
Rt. Hon. John Thurso M.P.
David Start
29, Ethelwulf Road
Worthing
BN14 7NF


Angus Stewart
36 Learmonth Place
St Andrews
Fife
KY16 8XF


Bob Barnes-Watts, Inverness
Iain Macdonald, Alness
Richard Ardern, Inverness
Stewart Campbell, Alness
The photo of Culrain station was taken by Peter Van Den Bossche and the photo of Altnabreac by Dennis Troughton. Both are used under the Creative Commons Licence.
The European

Railway

Webring